Cardiff terror accused's IS search 'was out of curiosity'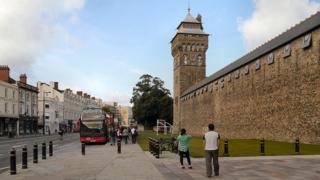 A teenager accused of planning a terror attack in Cardiff has claimed he searched online for so-called Islamic State material out of curiosity.
The boy, from Rhondda Cynon Taff, told Birmingham Crown Court he was not intending to carry out any acts of terrorism at the time of his arrest.
He said he searched for tips on "creating" an attack to see how easy it was to find extremist material online.
The boy, 17, who cannot be named, denies a string of terror charges.
The teenager, who is of a white British background, told jurors he did not own a copy of the Koran and did not believe in Islam.
Asked by his defence barrister Delroy Henry why he had searched online for details of IS executioner Jihadi John, the boy replied: "I was just curious because I saw him on the news and I wanted to see who he was.
"I felt that the internet was the best way because it was fast."
He said the search, and others unrelated to terror, were the result of a fascination with "gruesome" things.
But he did admit using search engine Bing to find details of "how to create a terror attack" in October last year.
He told the court: "I wanted to see how easy it was for people who had an interest in terrorism to go online and get information because the police and the government are trying to crack down on terrorism and radicalisation.
"I wanted to see if it was possible, not for me but from someone else's point of view."
Giving evidence in his defence, the teenager said he felt "quite sad" after the Westminster Bridge terror attack and had searched online to see what reaction there had been to it in the United States.
The boy was arrested on 30 June after he searched for details of security arrangements at a Justin Bieber concert due to take place in Cardiff.
The prosecution alleges he wrote a "martyrdom letter" ending with the words: "In the name of Allah, may terrorism greet your country.
"May there be more bomb and vehicle attacks with Allah's permission."
The trial continues.