Cardiff Spar stores breathalyse drunk customers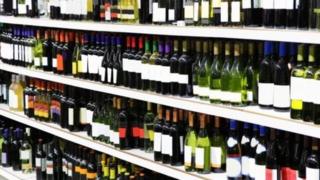 Two Cardiff city centre supermarkets are using breathalysers to avoid serving intoxicated customers.
The move is supported by South Wales Police's 'Operation Purple Ash', which aims to clamp-down on street drinking and anti-social behaviour.
It is illegal to knowingly sell alcohol to a person who is drunk.
Alcohol Concern Cymru said more should be done to support those suffering from alcoholism.
The two Spar supermarkets are on Cardiff's St Mary Street and Queen Street.
Azeem Ahmed, the director of the stores, said they first introduced breathalysers ten months ago. He believed the machines have helped reduce antisocial behaviour outside the shops by helping to determine whether someone is too drunk to serve.
He added: "In the past, we had to make a subjective decision". He cited an employee last year who was taken to court for serving someone drunk and that it was difficult to prove either way.
The stores have identical breathalysers to those used to test drivers and the same alcohol limit.
The practice has been encouraged by South Wales Police as part of 'Operation Purple Ash' which aims to cut begging, anti-social behaviour and drinking.
It began 12 days ago and has already resulted in:
More than 40 section 35 notices being issued requiring the recipient to leave an area for 24 hours
40 alcoholic drinks confiscated from street drinkers
18 people arrested for begging, being drunk and disorderly, failing to appear at court and breaching dispersal orders.
Divisional Commander for Cardiff, Chief Supt Belinda Davies said: "Complaints from visitors, residents and businesses around the number of people begging and undertaking alcohol related anti-social behaviour within the city centre have increased in recent months. Such behaviour can prove intimidating, unpleasant and unwelcoming.
"Our action is intended to deal with persistent beggars and street drinkers, but also giving us the opportunity to engage with some of the more vulnerable members of the community, working with our partners to signpost a variety of help and support services available to them."
Alcohol Concern Cymru director Andrew Misell said there were "deep-seated" reasons why people drink excessively, including "childhood trauma" and "homelessness", so the scheme should be coupled with "adequate investment in services to help people exit their drinking lives".
Mr Misell said an "obvious solution" would be for supermarkets like Spar to stop selling high strength ciders and lagers, and that a minimum unit price could help to reduce access.
A planned law to set a minimum price per unit of alcohol in Wales to try and reduce excessive drinking was announced last month.
But Dr Kevin Smith, a senior lecturer at Cardiff University's School of Social Sciences, has questioned the stores' use of the breathalysers as an inappropriate response to social issues.
"You'll have all these Christmas dos coming up soon and if my friends and I went out in our suits and ties and want a can from the local Spar, honestly, they are not going to breathalyse us. But they are going to breathalyse the people they think fit the profile.
He said drunkenness and anti-social behaviour were being mentioned alongside rough-sleeping and begging. "But they are two, separate issues. We can't conflate the two."