Sustrans calls for segregated cycle lanes in Cardiff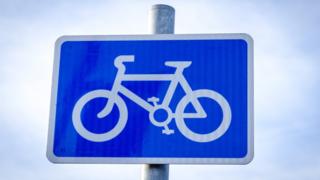 Almost 80% of Cardiff residents want segregated cycle lanes - even if it means less space for cars, a new survey has found.
Protective barriers would encourage people in the city to cycle more, a report by Sustrans Cymru and Cardiff council said.
But people also want more secure parking for their bicycles.
Cardiff council said it wanted to make the capital "a world class cycling city".
The Bike Life Cardiff poll of 1,100 residents found 57% of residents would like to start riding a bike or ride their bike more, but many had concerns about road safety.
Just 34% of those surveyed considered cycling safety in the city to be "good" but 70% said they might cycle more if segregated cycle lanes were built.
About 79% supported building more segregated cycle lanes, even if this reduced space for other road traffic.
Bike security was also an issue for residents, with just 23% rating current bicycle parking arrangements as "good".
The survey follows the launch of the council's Cycling Strategy Cardiff, which aims to double the annual number of cycle trips undertaken in the capital by 2026.
Among its plans to improve the cycling network are two new "cycle super highways", one running from Cardiff Bay to north-east Cardiff and another linking the east of the city to the north west, parking for 500 bikes, and the expansion of 20mph zones for other traffic.
Sustrans Cymru director Steve Brooks said cities were now "waking up to the fact that we need to design for people, not motor vehicles".
He added: "Bike Life Cardiff shows that most people living in the city think cycling is a good thing and are far more supportive of bold and ambitious plans for cycling than decision-makers often think.
"They want dedicated space for people on bicycles even when this means taking space away from cars."
Cardiff council leader Huw Thomas said the council was determined to prioritise sustainable modes of transport and said the report demonstrated the majority of residents supported that approach.
Council cabinet member for planning and transport, Caro Wild, added: "Getting our transport system right is one of this administration's top priorities.
"We want to make Cardiff a world class cycling city."
John Clark, who cycles to and from work in the city centre "because it's easier than getting two buses", said Cardiff was a "total dream for cycling".
"You've got these green fingers that run along the three rivers - the Ely, Taff and Rhymney and it's really fantastic that all the cycle networks link up to that," he said.
"There could be more secure bike stands as security is a big concern."
But he added: "I think Cardiff is taking cycling quite seriously."
---
What are you saying about this issue?
Sonia Jo Crews commented on the BBC Wales Facebook page: "I can't see how they can do this... personally I don't think they should use the roads but keep to the trails... the roads are not wide enough even if they tweak them."
Mary Lockyer said: "In our area cyclists ignore the cycle paths, ride three abreast on bends on our country roads and ignore the Highway Code.
"All road users should have to provide a certificate of road worthiness for their transportation and have insurance."
Ros Pierce said: "I think they need to know the Highway Code as have seen cyclists going through red lights thankfully nothing coming the other way!!!! If we had "proper" cycle lanes not intermittent lanes I would gladly cycle to more places not take my life in my hands and use the main roads."