Cardiff cycling: £500k to boost activities and coaching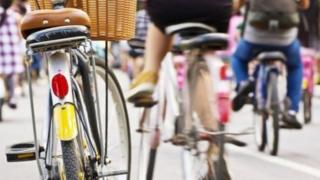 A £500,000-a year sponsorship deal aimed at getting more people cycling in Cardiff has been agreed by the city council.
The British Cycling and HSBC project will see the city host an 8,000-rider cycling event and pay for investment in coaching and talent spotting.
It will run for five years and the council will also contribute £100,000 a year.
A recent survey found more Cardiff residents would cycle if it was safer.
The programme, which will also be adopted in nine other cities across the UK, will seek to:
See 10,000 more people cycling in Cardiff
Double the percentage of journeys to work taken by bicycle from 9.2% to 18.4%
Develop Cardiff's reputation as a "cycling city"
Host a mass city ride for 8,000 riders on 13 May 2018 where city centre streets would be closed to traffic, as part of a car-free day
Peter Bradbury, cabinet member for culture and leisure, said the partnership with British Cycling and HSBC aimed to increase participation, recruit new coaches and volunteers and provide a pathway for those showing potential in cycling as a sport.
"Building on the success at Maindy [Flyers cycling club], we hope to find the next Geraint Thomas and Elinor Barker to represent Cardiff on the world stage," he said.
Conservative councillor Philipa Hill-John said it was a "great concept".
Labour's Owen Jones supported the proposal but said it "needs to be matched by larger infrastructure projects and designated safer cycle routes" for the enthusiasm for cycling it builds to be realised.
Liberal Democrat councillor Joe Boyle raised one objection at Thursday's cabinet meeting, asking: "Part of me does think you could buy 2,500 children bikes with the [£500,000] money... it helps kids who already have bikes, but is there enough to encourage kids who aren't already cycling?"
Caro Wild, cabinet member for planning and transport, said increasing cycling was a council priority and it wanted more than 50% of journeys to be made by bike, on foot or by public transport by 2026.
He said it planned to do this by developing cycling and walking plans for every school in the city and making routes safer.