Mothers hold Cardiff march for better employment rights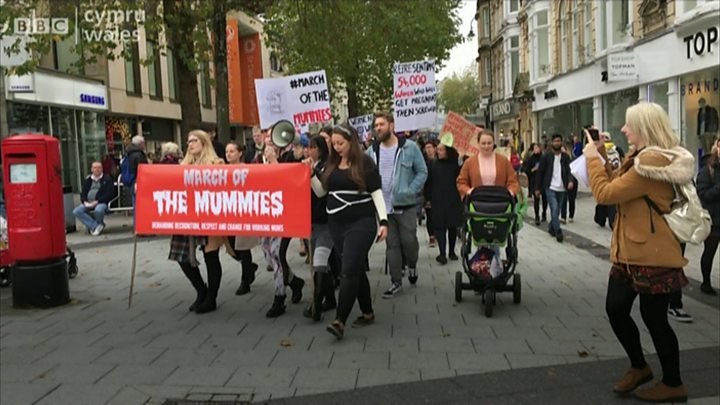 Mothers have taken part in a Cardiff march calling for better employment rights.
The event took place along Queen Street, Cardiff, on Tuesday afternoon as part of the nationwide "March of the Mummies" campaign.
It was organised by "Pregnant Then Screwed", with the march led by the assembly's first candidate for the Women's Equality party Sarah Rees.
The UK government said its maternity leave was "one of the most generous".
"Pregnant Then Screwed" campaigns against maternal discrimination, with sister marches held across other cities in the UK at midday.
The campaign has five major demands of the UK government:
To increase the time limit to raise a tribunal claim from three months to six months
For companies to report on how many flexible working requests are made, and how many are granted
To give fathers access to six weeks non-transferrable paternity leave at 90% of their salary
To give self-employed people access to statutory share parental pay
To subsidise child care from six months rather than three years
Fourteen months ago, the UK government-commissioned a report into maternity discrimination, which found that 54,000 women lose their jobs every year after pregnancy.
It also found 77% of working mothers have reported experiencing discriminatory treatment in the workplace.
Ms Rees, who is also the founding director of Career Women Wales, said: "I was on maternity leave and I was made redundant by my employer. It's not illegal, it happens to hundreds of women."
She added that childcare costs were "pushing parents out of work".
Sarah Scotcher, who attended the Cardiff march, said: "It's not about just mums, it's not about just women, it's about men too. Particularly if it's men making those decisions."
"It's actually good business to keep people in their jobs with support. You're going to minimise your staff turnover, and we all know how expensive that is."
Commenting on the marches, a UK government spokesman said: "The UK's maternity leave system is one of the most generous in the world, with eligible working parents able to benefit from up to 50 weeks of shared parental leave, a right to request flexible working and £2,000-a-year of tax-free childcare per child.
"But let's be clear, discrimination in the workplace is illegal in any form and we are considering ways of ensuring new and expectant mums feel properly supported and protected at work."
He added that the government was investing "record sums" in childcare support, with funding reaching £6bn a year by 2020.