Conner Marshall: Killer's probation monitoring 'shambolic'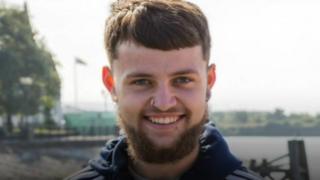 A woman whose son was battered to death by a man on probation has described changes to the way offenders are monitored as "shambolic".
Nadine Marshall's son Conner, 18, died following a brutal attack in Porthcawl, Bridgend county in March 2015.
She was speaking to BBC Panorama which found one private company failed to take action on more than 15,000 missed probation appointments.
The Ministry of Justice (MoJ) said it was "right to reform the system".
Three years ago the MoJ handed the supervision of low and medium risk offenders in England and Wales to private companies.
Twenty-one companies secured government contracts worth nearly £4bn over seven years.
When David Braddon, a 26-year-old man from Caerphilly, murdered Conner he was being monitored by probation workers after being convicted for drugs offences and assaulting a police officer.
He had missed eight probation appointments.
A report by the National Offender Management Service found there were times staff could have "monitored his community order more robustly" but it concluded staff could not have known he would go on to commit such a violent act.
Braddon is now serving a life term for Conner's murder.
Mrs Marshall, from Barry, Vale of Glamorgan, said: "Conner was attacked and murdered in March of 2015. It wasn't until August 2015 that we had a standard letter sent from the probation service just letting us know that the offender that had been charged was already under probation care for two other separate orders.
"It was just devastation... it was just horrific to learn he was known and the whole case was a shambolic state.
"[Conner's] murder was preventable in our opinion because of the eight missed appointments... had the processes had been followed David Braddon wouldn't have the opportunity to be in Porthcawl."
The MoJ said public protection was its top priority and while probation needed to "work better" it was "absolutely right" to reform the system which has led to 40,000 previously unmonitored short-term offenders being supervised.