Shakin' Stevens helps teach CPR at Cardiff school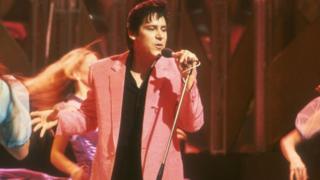 Shakin' Stevens has returned to his old school in Cardiff to help teach CPR, which he says saved his life.
The 69-year-old singer almost died after suffering a cardiac arrest at his Buckinghamshire home in July 2010 but survived after his partner performed CPR on him.
He raised £1,000 at a concert in April to buy a defibrillator.
He said he wanted to "give something back to the community where I grew up".
Shaky, whose real name is Michael Barratt, presented the defibrillator to children at his old school - Hywel Dda Primary in Ely - as pupils watched a demonstration on how to perform CPR.
His partner Sue Davies said she broke one of Shaky's ribs doing CPR under guidance from the 999 operator, as an ambulance rushed to their home.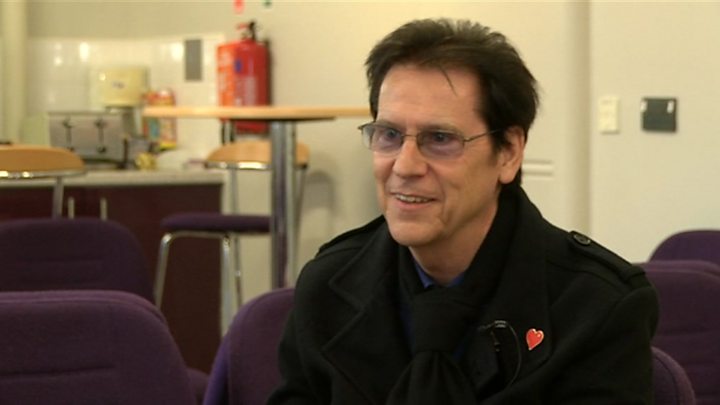 "It was the loneliest place in the world," she said. "It must have gone on for 25 minutes or so before the ambulance came but I knew I had to keep going."
Shaky said if she had not recognised he was in trouble that night, he "would not have been here at all".
The musician was in hospital for almost two months, where it was revealed he suffered from a genetic condition called hypertrophic cardiomyopathy a thickening of the heart muscle.
He suffered a relapse in 2016 and has since undergone surgery which he said has "cured" his problem.
Shaky, whose four number one hits include This Ole House and Merry Christmas Everyone, has since become patron of charity Welsh Hearts and wants to raise awareness of the importance of learning CPR and how to use defibrillators.
He personally chose to buy the life-saving machine for his old community of Ely, which will be kept at the local police station.
"I wanted to give something back to an area that means so much to me," he said. "And help a cause that is close to me."
Welsh Hearts said just 3% - about 240 people - of the 8,000 who suffer sudden cardiac arrest in Wales will survive and that the faster the patient is helped by CPR and a defibrillator, the more chance they have of surviving.
Spokesman Nick Aitken added that just 9% of the UK population know basic life-saving skills, compared to 90% of people in some European countries.
"Knowing how to do CPR and use a defibrillator can massively increase the chance of a life being saved," he said.