Wales' first black head teacher Betty Campbell dies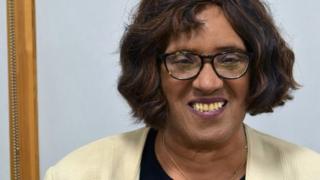 Wales' first black head teacher Betty Campbell has died at the age of 82, her husband has said.
Rupert Campbell confirmed she died at home in Butetown, Cardiff at about 19:00 BST on Friday after being unwell for several months.
Her family said she was "an inspiration to us all".
The former Butetown councillor was awarded an MBE for her services to the community and education.
Paying tribute, Mrs Campbell's family said they were all "deeply saddened by the loss of our beloved wife, mother and grandmother".
"Coming from humble beginnings she was an inspiration to us all and to the wider community and proved that with determination, anything is achievable," they said.
Beacon of light
"Betty Campbell was a beacon of light that helped, encouraged and inspired many people from all walks of life. Her legacy will continue now and in future generations to come."
First Minister Carwyn Jones said Mrs Campbell was "a true pioneer" and an "inspiration to other black and ethnic minority people."
She became head teacher at Mount Stuart Primary despite being left in tears after being told at school this dream was "insurmountable" in post-war Britain.
Mr Jones said: "She achieved her dream through hard work and perseverance and broke down barriers for others to follow in her footsteps."
Rachel Elizabeth Campbell - known as Betty - was born in Cardiff's docklands area to a Jamaican father and Welsh Barbadian mother.
Speaking to BBC Wales in 2016, said she read Enid Blyton books as a child and dreamt of attending her fantasy boarding school Malory Towers.
Instead she won a scholarship to the city's Lady Margaret High School for Girls.
"All I wanted to do was wear a nice uniform," she said.
However, on telling the teacher about her dream to be a head teacher, she added: "I'll never forget her saying 'oh my dear, the problems would be insurmountable'.
"Those are the words she used. I went back to my desk and I cried. That was the first time I ever cried in school."
This made her determined to achieve the aim which she did and went on to educate thousands of children in the area where she was born.
"I wanted them to be inspired too. I made it my mission to teach them about black history when I became head teacher at Mount Stuart," she said.
Between 1960 and 1999, she worked as a teacher and head teacher in multi-racial areas of the city, first in Llanrumney and then at her local Mount Stuart Primary.
She was also a member of the preparation committee for the opening of the National Assembly in 1998 and a former councillor for the Butetown ward.
Her lifelong friend and relative Neil Sinclair, who grew up with her in the old Tiger Bay area of Butetown said he was still in shock at her death.
"You can see Betty from many different angles - a member of my family, the community, a political figure, councillor, also Wales' first black headmistress," he said.
"She was also a well-loved member of the community."
She was on the race relations board between 1972 and 1976, a governor of BBC Wales from 1980 to 1984, a member of the Home Office's race advisory committee and served in many education roles.