Couple celebrate wedding on pitch at Cardiff Arms Park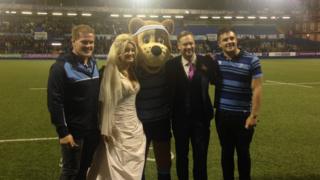 A newly-wed couple certainly had something blue - celebrating their marriage at Cardiff Arms Park.
Charlotte and Andrew Symes walked onto the field at half time during the Blues match against Lyon on Friday evening.
Mrs Symes, originally from Sully, Vale of Glamorgan, said she and her husband were both "absolutely massive fans".
Rhys Gill and Ellis Jenkins of the Cardiff Blues signed her wedding dress, which the couple hope will raise money for charity.
Mrs Symes said: "I bought the dress from Pritchard and Moore who donate the money to Cancer Research Wales and today I came up with the idea to get the players to sign the dress so I could sell it back.
"We wanted to think about other people on our wedding day and not just ourselves."
Speaking to BBC Radio Wales' The Friday Night Social programme, she added they hoped to watch the second half of the match but had "a lot of people waiting" for them at their wedding reception at the Angel Hotel.