Cardiff school holidays move 'opportunity missed'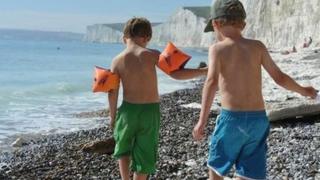 An opportunity has been missed to move school summer holidays to later in the year, a Cardiff councillor has said.
The plan was backed by 72% of head teachers and governors and could save parents hundreds of pounds as they would be able to go away outside of peak times.
But on Thursday, Cardiff council decided to refer the issue to the Welsh Government.
Councillor Adrian Robson said many parents would "appreciate" the change.
The council carried out a detailed study on whether it was feasible to move a week of holiday from the summer to later in the year.
The cabinet decided to refer the issue to the Welsh Government rather than carry out a public consultation.
Mr Robson said: "I do wonder where our priority is," he said, "we're missing an opportunity here.
Unauthorised holidays at 'record high'
School absences fall to record low
But Cllr Sarah Merry said the decision was not within their power.
She referred to a statement by Education Secretary Kirsty Williams that said local authorities had a "duty to co-ordinate with each other to ensure term times are the same or as similar as possible".
She added a change could create difficulties for teachers with children at schools in other authorities.
Ms Merry accepted many would like to see a week of holiday moved but added: "As soon as you ask people where they want to move it to that consensus breaks down".
The cabinet also approved a recommendation to inform school governing bodies that they may wish to amend their inset days to link with Eid al-Adha and Diwali.