Anger as Cardiff MoRun clashes with Remembrance Sunday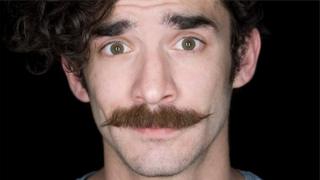 A fun run in aid of Movember has been criticised for clashing with Remembrance Sunday services for the second year running.
The Cardiff MoRun will take place in Bute Park just 10 minutes after a service at the Wales national war memorial in nearby Cathays Park.
The start time was moved in 2016 after complaints the run would clash with services.
Organiser Fix Events said it respects Remembrance Sunday.
Kevin Fulthorpe is a runner and physical training instructor at the Royal Air Force Reserve in Cardiff and will be boycotting the MoRun.
He said organisers "made a mistake" to pick Remembrance Sunday last year, but "they can't use ignorance as an excuse" this year.
"You'd have thought the bad publicity they were getting for their event outweighed the hassle of choosing the same day this year."
Mr Fulthorpe has taken part in Movember and said there is "nothing wrong with running in fancy dress", but not when the official remembrance service for Wales was nearby.
'Complete respect'
Dave Krangel, from Fix Events, said the Cardiff MoRun was changed in 2016 to start after 11:00 BST and to ensure they had the two minute silence.
"This was approved by the Royal British Legion and Cardiff council," he said.
"The same will happen this year. However, we have also placed the event hub further away at Blackweir so even less noise issues are likely."
Mr Krangel added they "completely respect Remembrance Sunday" and will always ensure they make appropriate announcements to reflect this.
Cardiff council's cabinet member for culture and leisure, Peter Bradbury, said the parks service were "content to honour this booking" and that they had received confirmation that the Royal British Legion were positive about the event.
"The council will work with the Mo-Running organisers to ensure the event is respectful," he said.