Boost for live music campaign in Womanby Street, Cardiff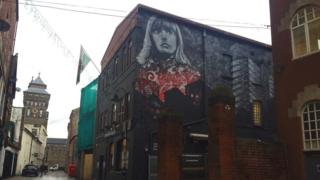 The campaign to protect one of Cardiff's live music hubs has been given a major boost.
Cardiff council is in "the final stages" of buying land in Womanby Street with the intention of leasing it to Clwb Ifor Bach.
Council leader Huw Thomas said selling the land to the live music club would "enable their venue to be expanded".
Plans for flats had threatened the future of music venues in the street until they were withdrawn in September.
Mr Thomas said the council has been working closely with the Save Womanby Street campaign to protect the "beating, pulsing heart of music in our city centre".
The founder and campaign manager of Save Womanby Street, Ewan Moor, said they were "delighted to see the effort of venues, artists, politicians and thousands of supporters come to fruition".
He added: "While we welcome this leap forward, it is vital as ever to support, not just protect, our live music. Today is a step towards that goal."
Councillor Peter Bradbury, cabinet member for culture and leisure, said the council was now hoping to devise a plan with Sound Diplomacy, a company which aims to develop music environments.
Mr Bradbury said he was "looking forward to confirming their [Sound Diplomacy] involvement in the next few weeks".
An application had been submitted to demolish the building next to Clwb Ifor Bach and build six flats in its place.
But there were concerns a residential development would result in noise complaints and reduced opening hours.
Thousands of people joined local politicians in supporting the Save Womanby Street campaign and the plans were withdrawn last month.