Elsie Scully-Hicks: Baby death dad told girl to 'shut up'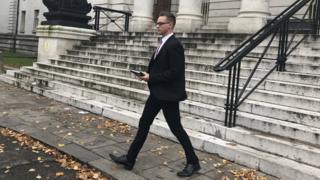 A man accused of murdering his adopted baby daughter was heard swearing and shouting at the child by neighbours, a jury has heard.
Matthew Scully-Hicks, 31, of Delabole, Cornwall, denies the murder of 18-month-old Elsie, who died in May 2016 after suffering catastrophic injuries.
Neighbour James Bevan told Cardiff Crown Court he heard offensive swear words being shouted at the infant.
He told the jury the swearing and shouting would happen when Elsie cried.
Mr Bevan, who lived in the semi-detached house next door to Matthew Scully-Hicks in Cardiff, said: "The first initial time I heard anything (unusual), I heard like a tantrum, like a 'argh', an adult's voice, a baby crying, and as the baby was crying I heard a door slam… I identified the crying as being that of a baby."
He explained on the next occasion he heard a baby crying, he also heard Matthew Scully-Hicks swearing at the child and saying "shut up".
He told the court: "Eventually she stopped crying. Then there was a pause and loud music started playing next door.
"It played the duration of a song. It stopped and the baby was still crying. The one who stayed at home shouted "shut up, shut up, shut up" over and over again.
"I would normally hear similar occasions happening once a week. Shouting, babies crying, tantrums."
Mr Bevan's mother Susan told the court that she had heard Mr Scully-Hicks with a raised his voice and sounding "exasperated and frustrated".
She told the court: "I could occasionally hear him telling her to shut up. On some occasions he would sound quite exasperated.
"I do remember on one occasion when the baby was crying a lot. From a mother's point of view it sounded like a proper cry.
"Matthew got really exasperated with the baby."
She told the jury she heard him swear and repeatedly shout at Elsie to "shut up".
When asked if she felt the child was in any danger, she replied "no", adding later she had "no reason to be worried".
She told the court she knew her neighbours "just politely" and used to call them "the one that stayed at home, and the one that worked away".
Defence barrister Jonathan Rees said Mr Scully-Hicks accepted he had raised his voice at Elsie but not that he swore.
The court heard on Tuesday Mr Scully-Hicks had referred to Elsie as "a psycho" and "Satan".
But his husband, Craig Scully-Hicks, said their house had been "filled with love and happiness, all the time" and he was unaware of any violence.
Elsie died in the early hours of 29 May 2016, two weeks after being formally adopted.
She had been taken in by the couple eight months previously but in that time had suffered several injuries including a fractured ankle and a fall down the stairs.
On Wednesday, the jury was played a 27-minute 999 call made by Matthew Scully-Hicks on 10 March 2016 when she was taken to Cardiff's University Hospital of Wales after the stair fall.
He was heard saying "Elsie, Elsie, come on, stay awake, stay awake, stay awake, babe, come on," while waiting for paramedics to arrive.
Matthew Scully-Hicks claimed Elsie had fallen down the stairs after a wooden stair gate accidentally opened when she pulled herself up on it.
The court has been told that Elsie vomited three times after the fall but she did not qualify for a CT scan.
She was discharged from hospital four hours later.
Jurors have been told that Matthew Scully-Hicks made another 999 at about 18:20 on 25 May, reporting that he had found Elsie unresponsive.
PC Hugh Thomas, who attended the family home with paramedics, described the defendant as "crying" and "in shock".
Medical tests before she died on 29 May showed she had suffered haemorrhages to her brain.
Post-mortem examinations revealed she had also suffered broken ribs, a fractured left femur and a fractured skull.
The trial continues.