Cardiff prisoners 'spend whole days locked in cells'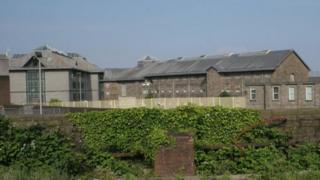 Almost half of prisoners in HMP Cardiff are spending entire days locked in their cells, according to a report by the chief inspector of prisons.
47% of inmates spent the working day in their cells, with some spending more than 27 consecutive hours locked up.
Some Cardiff prisoners were also using bed sheets to screen their toilets, which was described by one prisoner as "degrading and unhygienic".
Penal reform charity The Howard League said there was a "national emergency".
The UK-wide report by Chief Inspector of Prisons Peter Clarke, which covers the period between April 2016 and March 2017, described conditions in local and training prisons, like HMP Cardiff, as "bleak".
He said: "The concerns and recommendations set out in this paper need to be taken seriously. The aspirations of the prison reform programme will not be met if prisoners are confined in conditions that embitter and demoralise, leaving them unable to access rehabilitative activities and, all too often, turning to illicit drugs to break the boredom born of long periods locked in their cells."
However, conditions in open, women's and high security prisons were said to provide "decent conditions".
Under European law, prisoners are entitled to 6sq m of living space in a single cell, or 4sq m in a shared room, along with screened sanitary facilities.
These requirements were not met in some cells in HMP Cardiff.
Prisoners there were rigging up makeshift curtains from sheets to screen the toilet, an arrangement which the report found could not "mitigate the humiliation felt by a prisoner" using it.
'In squalor'
Frances Crook, chief executive of the Howard League for Penal Reform, said: "The chief inspector should be applauded for revealing the scale of the challenge in prisons. Caging people in squalor with nothing to do all day is never going to help them become law-abiding citizens on release."
A Ministry of Justice spokesman said: "We are investing £1.3bn to modernise the prison estate, closing older prisons that are not fit for purpose and creating in their place high-quality, modern establishments.
"This will help deliver prisons that are more safe and secure, so our staff can work more closely with offenders to change their lives and turn their back on crime for good.
"Our work in this area is supported by a drive to recruit an extra 2,500 prison officers, who will boost the frontline and help turn our prisons into places of reform."