Elsie Scully-Hicks: Murder accused was 'struggling to cope'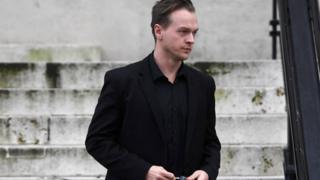 A man accused of murdering his adopted daughter referred to her as "a psycho" and "Satan", a court heard.
Matthew Scully-Hicks, 31, is accused of abusing 18-month-old Elsie over several months and causing "catastrophic" injuries before she died in May 2016.
But his husband, Craig Scully-Hicks, told Cardiff Crown Court his house had been "filled with love and happiness, all the time".
Matthew Scully-Hicks, of Delabole, Cornwall, denies murder.
The court heard police found messages from the defendant to his husband saying he was "struggling to cope" with caring for their adopted children.
In one, he described Elsie as "Satan in a babygro", saying she was "having a proper diva strop" and describing her as a "psycho".
However, defence barrister Robert O'Sullivan said Matthew Scully-Hicks was known as "safety boy" because of his safety conscious and careful nature.
His husband also described him as a "quiet and mild mannered person" who he had never seen shout or appear angry with their children.
The court heard they had moved to Cardiff in 2011 and faced a year of checks before adopting Elsie.
She was born in November 2014 and went to live with the couple in 2015, with them being visited by social workers every fortnight.
It was agreed the defendant would give up his job to care for the children, with his husband continuing to work - which kept him away from home three days a week.
Giving evidence by video link, Craig Scully-Hicks said: "She was great. The house became louder. She was good apart from her sleeping.
"She liked to nap but she liked to get up again a couple of hours later."
The jury was told neighbours had allegedly heard Matthew Scully-Hicks swearing at Elsie, telling her to "shut up", but his husband said he had never heard such language.
In September 2015, Elsie suffered a fracture to her right leg and bruises on her forehead in December 2015 and January 2016.
"She was always bumping and falling over at that stage," Craig Scully-Hicks told the jury.
On 10 March 2016, he received a call to say Elsie had fallen down the stairs, but despite being put under observation for four hours was allowed home from hospital.
"If my daughter's head had been scanned that day I wonder whether we would be here today," he told the jury.
"She didn't want to be put down, she just wanted to be on our laps constantly. She didn't want to play with her toys, she just wanted to be cuddled.
"It was like she lost confidence. I'm not sure she ever regained her confidence."
On 25 May, Craig Scully-Hicks said he received a phone call to say Elsie was "really poorly" and rushed from Leicester, where he was working, to University Hospital of Wales in Cardiff.
He became emotional when recalling seeing his daughter in hospital, saying: "She was on the operating table. I ran straight into the operating room.
"There were people everywhere and she was just lying on the table... the doctor said there was a problem with her heart and people are working on her."
Prosecutor Paul Lewis QC told the court "doctors determined she could not be saved" and her ventilator was switched off.
She died in the early hours of 29 May, two weeks after being formally adopted.
On Monday, the court heard she had suffered haemorrhages to her brain while post-mortem examinations discovered she had also suffered broken ribs, a fractured left femur and a fractured skull.
Matthew Scully-Hicks is accused of causing the brain damage by violently shaking Elsie.
Craig Scully-Hicks said: "Let me be clear. My house was filled with love and happiness, all of the time.
"If I had suspected anything I wouldn't have tolerated it."
Health visitor Jodie Golten, who saw Elsie on three occasions, told the court: "She was a happy, smiley child. Loving life I suppose.
"She was lovely, smiles all round."
Asked if she had any concerns about her care, she said: "None at all."
After the first visit, she wrote in her notes: "She appears to have a lovely bond growing with Matt. Both giving lovely eye contact and playing together."
The trial continues.