Cardiff plans to build three new secondary schools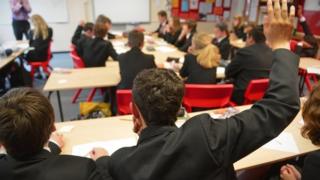 Three new secondary schools could be built in Cardiff under plans being drawn up to improve education in the city.
Cardiff council also wants to boost its Welsh-medium and English-medium primary schools as part of the next phase of the 21st Century Schools Programme.
The authority has already spent £164m improving schools since 2014, match-funded by the Welsh Government.
It now wants ministers to help finance more schools.
A report, to be considered by the council's cabinet on 12 October, sets out the proposals:
Build three new secondary schools
Boost English-medium secondary schools in central Cardiff
Expand and improve the condition of special education provision at primary and secondary school level
Increase Welsh-medium primary schools in the eastern and western areas of Cardiff
Increase English-medium primary school provision for Cardiff Bay and the west of the city
Since 2014, Cardiff council has given the go-ahead for two new secondary schools - Eastern High school and Cardiff West Community High School - and six new primaries.
The current investment by the local authority will end in 2019 and the next phase will run until 2024.
The report recommends asking for match-funding for the new school programme from the Welsh Government.
Councillor Sarah Merry, cabinet member for education, said: "Through this next phase of our 21st Century Schools programme we want to maintain the momentum that has been built by the exciting range of projects we have delivered."
The report to the cabinet also said a large number of primary, secondary and special schools in Cardiff are in a poor state of repair and more funding is needed to tackle the problem.