Budget cuts 'making Welsh council staff ill'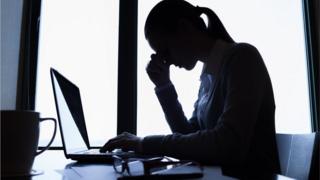 Council staff are taking long-term sick leave with stress and anxiety due to budget cuts, a local authority report has claimed.
Bridgend lost the equivalent of 685 days in 2016/17 due to staff being off with stress, anxiety, depression and mental health problems.
And the Welsh Local Government Association (WLGA) said the average sick leave had increased.
The Welsh Government said it had taken action to "protect councils" from cuts.
It comes as Wales' local authorities await their latest budget settlement, which will be announced by the Welsh Government on Tuesday, with many expecting further cuts.
Almost 25,000 council employees have lost their jobs since so-called austerity policies were introduced eight years ago.
The WLGA said staff were "having to deliver services in increasingly challenging circumstances, meeting increasing demands but with fewer resources".
It said it had seen a slight increase in average sick leave for each authority - up from 10.2 days per employee in 2015/16 to 10.3 days in 2016/17.
While those figures did not give specific details about stress-related sick leave, the WLGA said extra demands on staff from cuts were having an effect.
"Austerity is inevitably having an impact on hard-working council staff, many of whom are having to deliver services in increasingly challenging circumstances, meeting increasing demands but with fewer resources," a spokesman added.
A scrutiny committee report to Bridgend council raised concerns of a "direct correlation" between budget reductions, extra work and the sickness absence figure increasing.
In March this year, a UK-wide survey of 10,000 workers by the trade union Unison - which has members at Wales' 22 local authorities - found 92% of staff felt they had been under too much pressure at work.
The biggest cause of stress, Unison members said, was excessive demands placed on them by "staff shortages, cuts and constant change".
Last year, Conwy council began offering employees yoga classes during working hours to help reduce sickness.
Meanwhile, in Pembrokeshire, council staff are being offered "stress-busting workshops" while in Carmarthenshire, an in-house occupational health centre supports staff.
A Welsh Government spokesman said: "We recognise that we are all working against a backdrop of austerity and have taken action to protect councils from the impact of the deep cuts the UK government has made to our budget since 2010/11.
"Our 2017/18 local government settlement introduced a funding floor so no council would have to manage on a reduction of greater than half a percent, compared with 2016/17."