Pearl Black: Toddler death still under investigation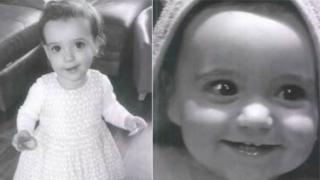 A pre-inquest review has heard a police investigation is continuing after an empty Range Rover rolled down a driveway and killed a toddler.
One-year-old Pearl Black was crushed after the car knocked over a garden wall in Merthyr Tydfil in August.
The pre-inquest hearing at Aberdare Coroner's Court heard the owner of the car would be interviewed by police and the case may be referred to the CPS.
Another pre-inquest review has been scheduled for 8 December.
Pearl's father, Paul Black, spoke afterwards to say his family was "not living day by day, we are living hour by hour".
The former The Voice contestant added: "There's not a second goes by in our lives where we don't think of our darling daughter.
"We will never have the life that we had. The brief time she was here, she was an enormous part of our lives. My love for her grows every day."
The hearing was told police investigations were continuing, but PC Tony Farr of South Wales Police said the owner of the car, Andrew Williams, had not yet been interviewed as he travelled a lot in his work as a long distance lorry driver.
The coroner Andrew Berkeley told the family the police investigation was ongoing into a potential criminal matter.
A previous hearing was told the unattended Range Rover had been left on the driveway with the handbrake fully applied.
But after it rolled down the drive, it went across the road, mounted the footpath opposite and hit the wall.
Pearl's eight-month-old brother was also injured.
The children had been visiting their grandparents with their father, half a mile from their house.