Barry mum's pay out six years after losing leg on holiday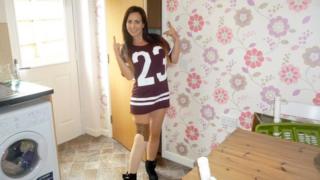 A mum-of-three who had her leg amputated after being hit by a car while on holiday in Greece has received compensation.
Tiffany Moreno, 32, was pushing a buggy with her two-year-old son Morgan in when she was hit in Zakynthos in May 2011.
The Barry mum needed her right leg amputated below the knee.
She has been paid a six-figure settlement after a court found driver Kristina Bequiri was speeding.
Ms Moreno was on the third day of her family holiday when she was hit by Bequiri, who was uninsured and did not have a licence.
She was taken to a hospital in mainland Greece before having surgery.
She was then flown home by air ambulance to the University Hospital of Wales in Cardiff, where she had her leg amputated.
"When the doctors saw my leg they told me they had no choice but to amputate it - at that point I was in so much pain I didn't care," she said.
She added: "My life changed in every way that terrible day. It took a lot of practice to learn to walk again with a new leg. At first I walked with a limp but now it's less obvious.
"I do my best to live life to the full. I drive and I can even go dancing.
"But I can't change what has happened and I have to let it go and look to the future. I know I am fortunate to be here to tell the tale."