Lord Justice Lloyd-Jones sworn into Supreme Court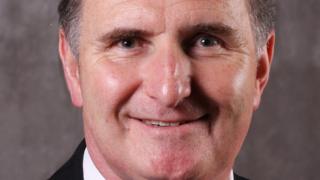 The first Welsh member of the UK's highest court has been sworn in.
Lord Justice Lloyd-Jones, Sir David Lloyd-Jones, was the presiding judge on the Wales circuit before being sitting on the Court of Appeal from 2012.
Originally from Pontypridd, Rhondda Cynon Taff, the 65-year-old was one of three justices sworn in to the Supreme Court on Monday.
A new president and deputy president were also sworn in, marking the beginning of the new legal year.
In a first, Lord Justice Lloyd-Jones took his oath of office in both English and Welsh.
The concept of needing a Welsh member of the highest court in the UK had been rejected as "premature" by a former deputy high court judge in 2015.
Lord Justice Lloyd-Jones attended Pontypridd Boys' Grammar School before going to Downing College, Cambridge where he was a fellow from 1975 to 1991.
At the Bar, his practice included international law, EU law and public law. He was independent advisor to the court in the Pinochet litigation before the House of Lords.
He was appointed as Queen's Counsel in 1999 and appointed to the High Court six years later.
A Welsh speaker, from 2008 to 2011 he served as a presiding judge on the Wales circuit and chairman of the Lord Chancellor's Standing Committee on the Welsh Language.
In 2012 he was appointed a Lord Justice of Appeal and from 2012 to 2015 he was chairman of the Law Commission.
The Welsh Government's senior law officer - counsel general Mick Antoniw - welcomed the appointment as a "historic day for Wales and another important step in Wales' devolution journey".