Cardiff Arriva train evacuated after smoke reports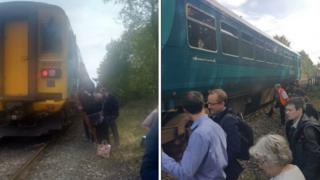 A train had to be evacuated following reports of smoke on board a service in Cardiff.
Arriva Trains Wales confirmed the 14:04 BST Radyr to Coryton train came to a stop outside Heath Junction.
The 32 people on board the train were evacuated and led to a "safe position" as a precaution. There were no injuries.
A train was sent from the depot to pick up the passengers.
Arriva Trains said the line was later reopened.