Richard Wallis jailed for Jan Jedrzejewski Newport murder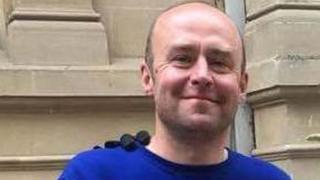 A man has been jailed for life for murder after kicking a "helpless" man in the face as he lay in the street.
Jan Jedrzejewski, 41, was found unconscious in Keene Street, Newport, on 12 January and died in the city's Royal Gwent Hospital the following day.
Richard Wallis, 43, of Newport, must serve a minimum of 16 years.
Cardiff Crown Court heard Wallis delivered the fatal blow after his victim was knocked down by another, unnamed person.
The court heard there was a confrontation between Wallis and Mr Jedrzejewski and they squared up before Wallis ran home.
Defending, Paul Lewis QC said: "There was some provocation on behalf of others by the way in which Mr Wallis was addressed and treated when he chose to take to his heels and run away rather than stand and fight."
He told the court Wallis was encouraged to fight by others at the scene and was called "a coward and a pussy".
But the judge, Sir John Griffith Williams, did not accept this, saying Wallis went to arm himself with a crowbar, although it was not used in the attack.
"My conclusion having observed you throughout the trial is that you are in no way remorseful - your only concern was to lie and to dissemble as you tried to avoid conviction," he said.
Mr Lewis said Mr Jedrzejewski was forcefully kicked to the face after being "apparently rendered helpless," but the victim was knocked to the ground before Wallis arrived back on the scene.
Wallis also admitted two counts of perverting the course of justice after trying to get witnesses to change their statements and disposing of his clothes and trainers from the night of the killing, but he will not face further punishment for those offences.
In a tribute, Mr Jedrzejewski's family described him as "an amazing, caring and sincere son, brother, brother in law, uncle and friend".