Bin collection delays 'unacceptable', Bridgend council admits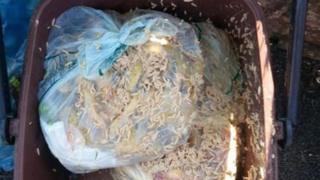 More changes to bin collections in Bridgend could cause further delays for residents, a council report admits.
Dozens of people complained about not having their recycling and black bags picked up after changes in June.
In a report, Bridgend council said the problems had been "unacceptable" and changes next month risked "further disruption".
The council will consider the report at a meeting on Thursday.
Bridgend council had said the scheme, which aims to recycle almost all rubbish, with different coloured sacks for cardboard, paper, plastics and nappies and caddies for glass and food waste, would help it meet Welsh Government targets.
Homes with fewer than five occupants are limited to throwing out two bags of non-recyclable waste every fortnight under the scheme, run by private contractor Kier.
But the changes have been criticised by residents and town councillors as "horrendous", some of whom had waited up to two weeks for rubbish to be collected after June's changes.
Bridgend council apologised at the time, but now a report looking at the way forward says that while disruption was expected the recycling service was "badly resourced" in the weeks after the changes.
This was because Kier "misjudged the level of resource required", the corporate risk assessment report says.
"Service levels dropped by an unacceptable degree," it reads.
"The levels of miss-collecting of recycling are now improving week on week and correct collections are now well above 99%.
"Unfortunately some residents who are receiving poor service are repeatedly suffering the same errors."
The report warns that Kier is introducing new high capacity vehicles in October which will result in "rerouting" and there is a risk further recycling collections will be missed as the changes are made.
This could "inconvenience residents" and cause "reputational damage to the council".
'Foreseen possible issue'
It also says that nappy collections, introduced in June, had also been "poor" with some bags not delivered, while some collections had not been done.
It adds: "Kier, are due to introduce new high capacity recycling vehicles in October 2017. The level of resource must be correct and there must be sound plans for implementation."
A council spokesman said the corporate risk assessment report helps local authorities plan ahead for potential problems across all areas of council business
"All this means is that we have foreseen a possible issue, and are working with the contractor so any disruption can be kept to a minimum," he said.
"What the report doesn't say is that the new vehicles could also be of great benefit to the scheme as they are brand-new, purpose-built for accommodating the new recycling containers, and can handle larger quantities of material before they have to be emptied.
"We are looking forward to seeing how the new recycling vehicles are going to benefit the scheme in the long-term."