Meet the hopeful Cardiff Half Marathon record breakers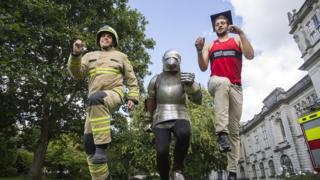 It won't be just the elite runners hoping to break records in Sunday's Cardiff Half Marathon.
A guy dressed as a monk, firefighters in breathing apparatus and Sir Runalot, the armour-plated knight, are hoping to smash fancy-dress records.
Each are hoping to rewrite the Guinness Book of Records in the 25,000-runner 13.1-mile race, the UK's third biggest annual mass participation event.
So while some are running to win, some are running for fun - and to win.
Sir Runalot, or Tudor Jones, is one of the most distinctive half marathon competitors, running in a 66lb (30kg) suit of full steel armour.
For the second time in a row he will take on the Cardiff competition, aiming to smash the previous record of three hours and 30 minutes for fastest time in a suit of armour.
"It was a challenge I set myself," Tudor explained. "I took up running last year. It was only around eight months after that I decided to try running in full armour. Now I run 30 or 40 miles a week.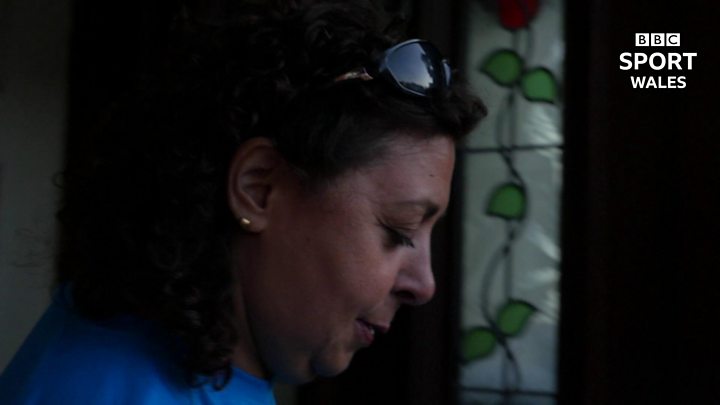 "The short answer as to where I got [the suit] - the internet. The long answer - there are some crazy Ukrainian armourers that are more than happy to put together a full suit of armour or some blunt weapons and ship them over to you."
Mr Jones, who is running for children's charity Ty Hafan, nearly beat the record last year, missing out by just five minutes. He had spent 14 minutes trying to repair some broken leg armour.
"I'm definitely in a much better position in terms of fitness than I was last year. But you've got to do it on the day. Hopefully the adrenaline will help carry me through as well."
Firefighter Kevin Summerhayes beat the world record last year for running a half marathon in full fire gear by just one second. This year he returns with a team of colleagues, all of whom are making their own world record bids.
Mr Summerhayes will try to break the record for the quickest mile in full kit, aiming to cover the distance in less than six minutes and eight seconds. He is making his attempt on Saturday's Festival of Running.
"I've been back running for about six years now," he said. "I've also been a fireman for 12. Last year was the first time I tried to run in fire gear on the suggestion of a friend.
"We were talking about the half marathon and he said to me 'why don't you run it in full fire gear?' And I just said 'yeah, why not'. That was only about three weeks before the event.
"We're trying to raise money for The Fire Fighter's Charity," said Mr Summerhayes. "We've raised £6,500 so far.
2017 Cardiff Half Marathon facts and figures
13.1 - Length of the course in miles
16 - Number of road closures
17 - Rhys Griffiths is the youngest runner at 17 years and two days
52 - The percentage of runners doing the race for the first time
85 - Age of oldest competitor Brian Pemberton
800 - Number of volunteers and good causes represented
20,000 - bananas and crisps for runners at the finish line
27,300 - bottles of water
60,000 - letters handed out to the residents warning of road closures
"There's a huge team of us . It's just the fire service's thing - these people love being challenged. They don't believe it when you say you can't do something. I just mentioned I'm running in gear over coffee and next thing you know they're all going for their own challenges."
Mr Summerhayes' team are trying to break a host of records, with some running the marathon with weights ranging from 20lb (9kg) to 100lb (45.4kg) and others attempting to run in full fire gear with breathing apparatus.
Perhaps the team's most visually impressive challenge is working together to run as a fancy dress fire engine.
"Some of the challenges are fantastic," said Kevin. "Four of them are running in an exact replica of one of our fire engines, with all the kit we use on board. It's absolutely massive, and a bit ungainly. But lots of people will be cheering them on.
"There's 40 operational staff taking part - that's over 90% of the fire station. The only ones who aren't doing it are the ones working on the day."
Cardiff University alumni Alec Care and Olivia Blockwell are both running in a traditional cap and gown.
"I decided to go in a cap and gown as a way to mark the anniversary of my graduation five years ago," explained Alec. "It's also good to be trying to potentially set a new world record at the same time!
"I have done something similar to this before - in 2011 I ran a 'half and half marathon'. I shaved half my beard and half my hair off!"
Alec has been running for seven years and met Olivia at university.
"Olivia and I did the same course, a masters in engineering, and we now work at the same company. I mentioned to her on a coffee break that I'm doing this and she said 'oh, I have a place too. Let's do it together!'"
While Alec has to beat one hour and 30 minutes to join the world record holders, there is no record of a woman running a half marathon in a cap and gown.
"While I'm trying to break a record, Olivia is setting a new one," said Alec. "All she has to do is finish!"
This year's route starts outside Cardiff Castle and will take runners past Cardiff City Stadium to Penarth, before they cross to Cardiff Bay and complete a loop of Roath Park Lake.