'Texting caused' Llanharry mum and son fatal crash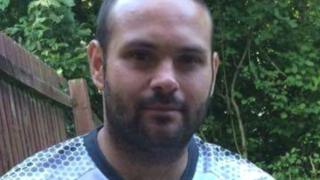 A mother and son were killed in a head-on crash with a lorry as he texted his new girlfriend after their first date, an inquest has been told.
Mark Golubovic, 32, was driving with mum Irene Martin, 63, in his Ford Ka when he swerved into the path of the oncoming heavy goods lorry at Llanharry, Rhondda Cynon Taff on 6 May.
The inquest at Aberdare heard he was using his phone while behind the wheel.
The coroner concluded both deaths were due to a road traffic collision.
Mr Golubovic had met new girlfriend Fern Robbins, 26, online but they had enjoyed drinks in person for the first time the night before the crash.
The inquest heard he was below the legal alcohol limit at the time of the crash.
Lorry driver David Loveys, 68, was driving 190 tonnes of animal feed when he spotted the car swerving into his side of the road.
"It was as if to avoid something on the road but I couldn't see anything," he said, adding he had little or no time to react.
"The red car just kept coming towards me. I thought the driver of the red car would have seen me and would have gone back onto the right side of the road."
'Lost control'
Mr Golubovic died instantly and Ms Martin, a grandmother and mother-of-three, died a few days later, Aberdare Coroner's Court was told.
It heard the texts could have been sent before Mr Golubovic got into his car but coroner Andrew Barkley said mobile phone use was the most likely cause.
"It is very clear the mobile phone was in use around the time of the collision," he said.
"That is certainly a very persuasive view and in my assessment the most likely cause of what happened here.
"There is no other rational explanation as to what caused him to lose control."