Women 'not warned' of epilepsy drug risk, campaigner says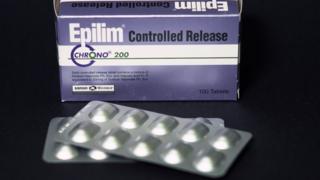 A campaigner from Caerphilly is giving evidence to a European-wide safety review of an epilepsy drug.
Babies exposed to sodium valproate in the womb have a 10% risk of physical abnormalities and a 40% risk of developing autism, low IQ and learning disabilities.
The European Medicines Agency is examining whether warnings are strong enough.
Joanne Cozens said many women who take the drug are not aware of the risks.
Mrs Cozens, whose son Thomas has Asperger's syndrome, said she was not properly informed of the dangers before she became pregnant.
"I was told when I went to see my consultant neurologist that I had a 1-2% chance of having a baby with spina bifida," she said.
"If I'd have had informed choice, I would have stopped taking my medication because my epilepsy is fairly controlled."
About 20,000 children have been harmed by valproate medicines in the UK since the 1970s.
Scientific papers as early as the 1980s suggested they were dangerous to developing babies.
In 2005, UK patient information leaflets included concerns about delayed development in children and last year, warnings were also added to the outside of valproate pill packets.
Mrs Cozens, who is giving evidence to the safety review in London on Tuesday, is now calling for a judge-led public inquiry into the issue.
"There are 20,000 children out there that have been affected," she said. "It's 10 times more than [have been affected by] Thalidomide.
"We all live day to day, we all feel guilty because of the medication that we took while we were pregnant.
"It's vital the message gets across to the government, we need a public inquiry to get to the bottom of it and stop more families being affected."
Newport West MP Paul Flynn, who has campaigned on the issue, said the harm caused by valporate was a "major scandal".
"The doctors and the drug companies should have made it clear that women are taking a terrible risk if they take it during pregnancy," he said
"Epilepsy itself is a risk to expectant mothers and there's a very difficult choice to be made but people should have a good idea of what the risks are so they can make their own decisions."