Cardiff Half Marathon: Roads closed as 100,000 head to city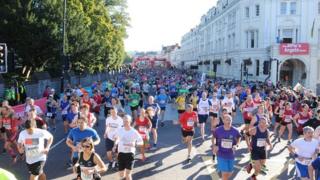 Up to 100,000 people were expected in Cardiff on Sunday for Wales' largest annual mass participation event.
Just under 20,000 people took part in the Cardiff Half Marathon but runners and spectators faced disruption, with no trains running between Newport and Cardiff before 13:00 BST.
Residents were also advised that many roads around Cardiff city centre will be shut for large parts of Sunday.
Security was heightened after the London and Manchester terror attacks.
The route started outside Cardiff Castle at 10:00 and took runners past Cardiff City Stadium to Penarth, and across the Cardiff Bay barrage before looping Roath Park Lake and finishing in Cathays Park.
Kenya's John Lotiang broke the course record to win the men's race, in which Wales' Dewi Griffiths finished fourth with a personal-best finish.
In the women's race, Edith Chelimo won with another course record, while Melissa Nicholls and Richie Powell took the women's and men's wheelchair titles.
Cardiff council said the city was "expected to be exceptionally busy" and organisers acknowledged attacks at Westminster, Manchester, London Bridge and Parsons Green this year had "raised the potential" of an incident during the city's half marathon.
But Run4Wales, which organises the Cardiff Half, moved to "reassure" the public of the "seriousness we place on security" at the event.
"We've had a close working relationship with South Wales Police and the security agencies to make sure we are doing everything we possibly can to make sure the event goes off safely," said chief executive Matt Newman.
He said contingencies had been put in place, adding: "The view from the security experts is we go ahead and it is business as usual."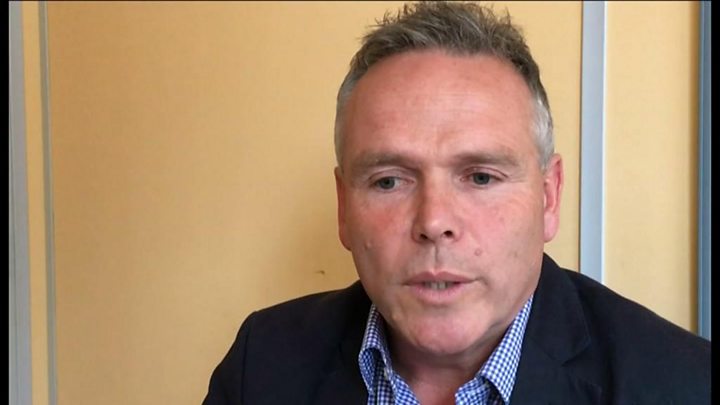 Cardiff has a history of hosting major sporting events, like June's Champions League final, and South Wales Police has promised a "visible and reassuring presence" to "provide the response the public would expect".
Since its inception in 2003, the Cardiff Half Marathon has become the UK's third biggest annual mass participation event behind the London Marathon and the Great North Run, and last year participants raised £2.5m for charity.