Bridgend baby deaths: Heartbroken mother pays tribute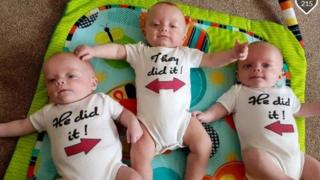 The mother of two babies who died suddenly in Bridgend has paid tribute to her "beautiful boys".
Five-month-old Noah and Charlie, two of a set of triplets, were found unresponsive in a house in Wildmill, Bridgend, on Saturday morning.
They were taken to the town's Princess of Wales Hospital where they were later pronounced dead.
Their mother said they were "her world" and "life will never be the same again".
South Wales Police said the deaths were not being treated as suspicious and a post mortem examination to determine the cause is due to take place.
Heartbroken
The mother said: "We are devastated at the loss of our two beautiful babies, who along with their brother Ethan, lit up our world.
"Noah and Charlie were my life, heart and soul.
"I would give anything to hold my beautiful boys, to see them smile, hear them laugh or even hear them cry. I am completely heartbroken and without them it feels like I've lost my limbs."
A tribute from the family added: "Words cannot describe how empty we feel at this awful time.
"We would like to thank everybody for their kind words and for their offers of support."
An online collection has been started to help support the family and has raised more than £7,300 in just over two days.
Det Insp Dean Taylor, from South Wales Police, said: "There is nothing that leads us to believe that this was anything other than a tragic accident."
"Inquiries are continuing in to what caused the young boys' tragic deaths.
"At this moment in time, there is nothing to suggest that carbon monoxide poisoning was the cause."