Llandaff's refurbished Insole Court mansion reopens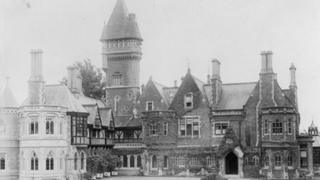 A Grade II-listed Victorian mansion in Cardiff has reopened after a £5m restoration.
Insole Court in Llandaff has been refurbished, with dilapidated outbuildings brought back into use, and will reopen on Saturday.
One has been transformed into a visitors' centre, while the former potting shed has reopened as a tea room, with the gardens also improved.
Cardiff council said the work had given the mansion a new lease of life.
Peter Bradbury, cabinet member for culture and leisure, said: "The fantastic restoration work that has taken place at this iconic Cardiff landmark has given Insole Court a wonderful new lease of life whereby history is combined with community."
Though the site has reopened, restoration work is ongoing, with further plans to improve the first floor of the mansion house for a new exhibition due to open in 2018.
Insole Court was built in the early 1850s by colliery owner James Harvey Insole, who extended it and developed it over the years, including adding a tower based on the one at Cardiff Castle.
Formerly run by Cardiff council, it was transferred to a charitable trust in 2011, with the aim of returning the building to its former glory and expanding its current community use.