Cardiff Airport plane's U-turn after bird strike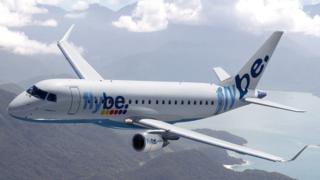 A plane carrying more than 90 passengers had to make an emergency U-turn after it struck a bird.
The BE4565 Flybe plane was travelling from Cardiff Airport to Charles de Gaulle, Paris, on Thursday, but had to return for emergency engine checks.
One passenger said there was a jolt and a smell of burning passed through the cabin.
A Cardiff Airport spokesman said: "The airport is open and operating as normal."
Tom Barrance, a 60-year-old filmmaker from Penarth, Vale of Glamorgan, who was on board the flight, said: "We hit a bird shortly after taking off from Cardiff and had to return.
"There was a bit of a jolt and a smell of bird - it smelled like burning.
"The captain came on the tannoy and said 'you may have noticed we have hit a bird - that's what the smell in the cabin is. We have to return to Cardiff. The engine seems to be fine but because of regulations we have to go back'."
Flybe said the aircraft landed safely without further incident, with the airport's emergency vehicles on standby.
It apologised for any inconvenience and said safety was its number one priority at all times.
A Cardiff Airport spokesman added: "The safety and security of staff and customers remains our top priority and our team worked closely with emergency services to manage the situation with minimal effect to other flights."