Porthcawl Elvis festival attracts 35,000 fans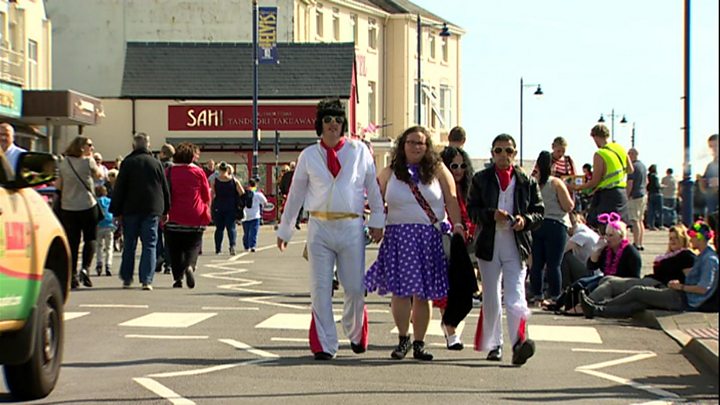 About 35,000 Elvis fans have descended on Porthcawl for the world's largest festival celebrating the king of rock'n'roll.
This year's event, in Bridgend county, coincides with the 40th anniversary of the singer's death.
Some festival-goers took part in a six-day charity walk along the Wales Coast Path ahead of the event.
Fears about if it would go ahead were allayed as traders had worried they may not have been able to sell anything.
This year's festival sees Elvis impersonators having their faces scanned by police in a bid to catch troublemakers and criminals.
South Wales Police is using facial recognition technology - used at the Champions League Final - to seek out wanted criminals and known troublemakers.
Part of this year's festival, which runs until Sunday, is a portrait exhibition by Dan Llywelyn Hall of world-leading Elvis tribute artists.
A new addition to this year's line-up was a Welsh-language day entitled Diwrnod I'r Brenin (Day Fit for a King) held on Thursday.
Other activities include the Best Elvis competition and a fringe festival hosted by 20 additional venues around Porthcawl.