Rhondda Tunnel Society gets £90,000 grant for inspection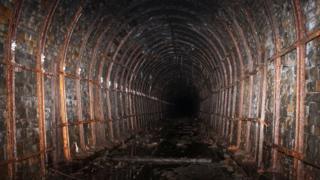 A group set up to reopen a disused Rhondda railway tunnel to cyclists and walkers is to receive a £90,000 grant.
The money, from Pen y Cymoedd Wind Farm Community Fund, will be used for a detailed examination of the tunnel between Blaencwm and Blaengwynfi.
Rhondda Tunnel Society chairman Steve Mackey said the resulting report would be "a key step in persuading a Welsh Government body to take ownership".
The tunnel is currently owned by Highways England.
Mr Mackey described the announcement as "a major breakthrough for the project".
The tunnel, which is 1.8 miles (3km) long, was previously used by trains taking coal from the Rhondda mines to the ports of Swansea Bay, but it was closed in 1968 and the entrances buried.
The grant will pay for three surveys:
A detailed inspection to find defects and estimate a cost to remedy them
A geotechnical survey of the material used to bury the approach cuttings at both ends
A survey to examine the land earmarked to receive the excavated spoil which will be used to create level, well-drained ground suitable for visitors' centres, car parks and camping and caravanning sites at both ends
While Highways England is responsible for its safety, it is not allowed to re-open the tunnel.
But it is willing to transfer ownership to the Welsh Government or local authorities, Neath Port Talbot and Rhondda Cynon Taf.
The Welsh Government said previously it was "important we first consider the legal, financial, safety and environmental liabilities associated with such a move".
Mr Mackey said if the Welsh Government did accept ownership, it would enable the society to secure the resources to restore it.
The £1.8m-a-year Pen y Cymoedd Wind Farm Community Fund was set up by energy company Vattenfall, for the benefit of the communities hosting its wind farm.