Cardiff Uni's £300m innovation campus 'can be a beacon'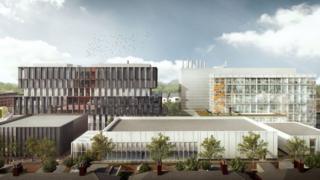 A new £300m campus can be a beacon to attract worldwide talent to Cardiff, a university professor has said.
Cardiff University's innovation campus aims to develop closer links between academic research and industry.
Major projects include developing a system to remove impurities from water and the technology behind facial recognition software for smartphones.
Prof Graham Hutchings said: "We want to take this fantastic research and make it so that it goes into application."
The new buildings will give researchers more room to work, develop products and demonstrate them to industries interested in using them.
Prof Hutchings specialises in catalysis - the acceleration of chemical reactions using catalysts - and one of the existing projects being developed in the new building is water purification.
Researchers hope to develop a system which extracts hydrogen from dirty water and uses it to create hydrogen peroxide to remove harmful bacteria.
In the first instance, it would be used to recycle water from baths, sinks and household appliances to be reused in people's homes.
Further down the line, this could be used in developing countries.
"This is something where you can take brown water which is infected with lots of nasty pathogens and out the other end comes clean water," said Prof Hutchings.
He said the new centre would provide the bespoke equipment and space needed to work on a much larger scale.
"I think we would be a beacon for people to come and they would bring their money and stay here and want to work with us," he added.
Another school that will use the new campus to take bigger strides in its research is the Institute for Compound Semiconductors (ICS).
Compound semiconductors are an extremely fast and efficient way of carrying light signals and one of their uses is in smartphones.
One advantage Cardiff University has in this field is its established links with IQE in nearby St Mellons, a company which forms part of a semiconductor cluster.
There are five semiconductor clusters in Europe; the others are in Belgium, The Netherlands, Germany and France.
The advent of facial recognition systems in phones such as the iPhone X also presents opportunities for Cardiff University.
A component in this technology is vertical cavity surface emitting lasers, called "VCSELs" for short.
Prof Diana Huffaker, of the school of physics, said it was possible the university would fabricate test structures of VCSELs for companies such as IQE, which would then sell them to major manufacturers.
"We're really focusing on serving IQE and their vertical cavity laser product... we want to be able to support them through quick turnaround fabrication testing," she added.