OCD sufferer Ben Jeffreys: 'Pontypool RFC saved my life'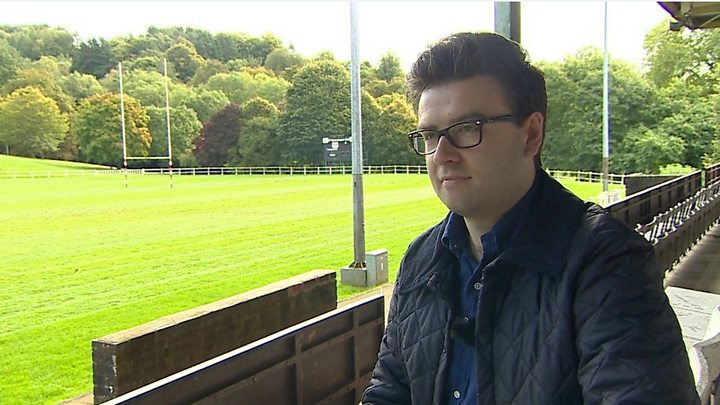 Washing your hands 60 times a day with hot water or having to "drink" crisps from a cup may seem like irrational behaviours to most people.
But for Ben Jeffreys, 28, these actions were part of his daily routine as obsessive compulsive disorder drove him to the brink of suicide.
Things came to a head in 2013, with his wife seriously ill and dad suffering a stroke, he collapsed with exhaustion.
After a 10-year OCD battle, he explains how Pontypool Rugby Club saved his life.
---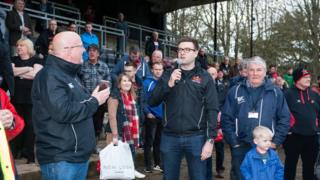 In 2013, I was suicidal, but was not able to pull the trigger.
I would cross roads not looking, hoping a bus or car was coming and the driver would end it all.
But my condition, coupled with the fear of losing the two people closest to me, meant I was about to hit absolute rock bottom.
It all started when I was a child. Many people have seemingly irrational thoughts that are always there at the back of their mind - for me, it was the fear of getting ill or being sick.
Actually, I didn't just have a phobia, I was absolutely petrified that someone in class would get a stomach bug or an illness and pass it on to me.
Don't get me wrong, I had a very happy childhood, full of love and warmth, growing up in Newport and attending Clytha Primary and Duffryn High School.
But I guess, looking back, that constant fear was the first inkling that I was maybe a bit different.
That said, I was popular, enjoyed dossing with my mates and got through school doing the bare minimum.
And then things started to change. At 17, everyone else began planning for their futures and working out what they would do next.
But I didn't put much effort into my A-Levels or give any serious thought to my next move - and then it was too late.
In the end, I managed to blag my way through clearing on to a new television course at the University of South Wales in Cardiff - which was probably the worst thing I could have done.
Because I was living at home, I had no opportunity to meet new people, was struggling to adapt and quickly felt friendless, very alone and very depressed.
This is when I really started repeating behaviours - I'd wash my hands maybe 60 times a day, with very hot water, burning them. It looked like I was wearing red gloves and was very embarrassing and painful.
I began losing the ability to rationalise, gargling a big bottle of Listerine a day until I had mouth ulcers.
There were other things, like I'd brush my teeth 30 times a day and it would take me 90 minutes to get ready in the morning because I was getting changed five times.
Over the course of a few months, I had totally lost control of my life.
I would drive to places but have to go home and start again and developed a terrible reputation for always being late.
Every night, I was getting one or two hours sleep and looked very lazy.
But despite dealing with all of these things alone and not sharing them with anyone, I still managed to finish with a 2:1 after switching to a marketing and media course.
The worst year of my life was to follow in 2010 when I started a masters in marketing and became obsessed with getting a distinction.
I would stay awake for 22 hours a day and rewrite 10,000-word essays over, and over, and over again until they felt right, even though I wasn't even sure what that meant.
There was a time I had to take my shoes off to use a bathroom and I put them back on again about 40 times until I had blisters.
This was one of my lowest moments and I felt depressed, worthless and hopeless like I couldn't get out of it.
While I got the distinction, I left university weighing just nine stone - compared to the 15 and a half stone I am today.
At the time, I had just one friend and there was a lot of frustration with my girlfriend and family asking "why can't you do this?" which brought guilt that I could not overcome a silly thing.
I found it hard finding a job, but my dad is a very successful businessman and a multi-millionaire, which meant there was no pressure to get work.
But this just made me feel even worse about myself.
My weight was plummeting partly because eating was so difficult as I found it impossible to use cutlery or my bare hands.
I was finding novel ways, such as "drinking" crisps from a cup, using paper towels to eat sandwiches and buying disposable paper plates for every meal.
Towards the end of 2012, my wife Draya was about to start her dream job as a zoologist at Bristol Zoo.
But she suddenly became seriously ill, nearly dying three times. I feared it was cancer and I would lose her as she lay in a critical condition.
Doctors eventually diagnosed it as severe endometriosis [where the lining of the womb is found outside the uterus], which was triggered after she lost a lot of weight through running, and she remained in a really dubious state.
While this was happening, my dad, who I idolised, suffered a stroke flying home from holiday. He lost the use of the right side of his body and many functions we all take for granted.
I just wanted my life to end and on Easter Sunday 2013, I collapsed at home from total exhaustion.
It was just before this my dad had decided to save Pontypool RFC - the team he had supported since he was a boy - and his company, Medinet, had sponsored since 2009.
The previous owners had been involved in a bitter and acrimonious battle with the Welsh Rugby Union and he paid £130,000 to stop the club going bust.
Dad had planned a recruitment drive and to really push things on in 2013, but after his stroke, things had kind of been put on hold.
It was then he asked me to get involved.
I have to be honest and say I hated rugby and had little idea of the club's great sides of the 1970s and 1980s, and iconic players such as the Pontypool front row.
But what I will say is, if it was not for it, I would not be here now. It saved me, gave me a small focus, a reason to look to the future and not do something stupid.
My wife stabilised, my dad got his functions back and I was still floating by, with people asking "why are you eating that sandwich with kitchen roll?"
I wanted to get some control back, to give my wife less to worry about, so in 2015 I started having cognitive behaviour therapy every week, which helped me relinquish many of my phobias.
Now I have a new, stable group of friends, who know about my condition, but still choose to know me.
Many times I am crippled by self doubt, some days I can't leave the house and am powerless to answer the phone, but I reached the 10-year milestone of suffering with depression so decided to check into The Priory rehabilitation clinic this summer.
A lot of it is group therapy and what I learnt is we all make judgements on people such as alcoholics and drug users.
But they were no different from me. We were all there with problems which triggered behaviours - theirs were having a drink or taking cocaine, mine was OCD.
On my fourth day, my wife brought my phone in to show me hundreds of messages of support - I was blown away as I had programmed my mind to think I was very isolated.
I had not cried for three years - I was always a very emotional person, but the medication I had started taking was a blocker.
When my wife was ill, I lost the ability to show compassion - I had been bottling it up, my mind scarred with the sight of Draya on her death bed, my dad, a big strong man, reduced to me cutting up his breakfast. I had repressed it all.
When I saw the messages, I just cried, wailed uncontrollably like I never had before. I let everything out.
I came out of The Priory in August on a euphoric high.
Now, I am sleeping, whereas before I was living a very chaotic life, getting a few hours from 5am to 8am, scrabbling around and not leaving the house.
I am also eating properly and realise it is normal to grab a biscuit without catching an illness.
I have a very long way to go - there are some days I wake up and it is very hard to resist the urge.
But people need to speak out, to normalise this condition.
Ten years ago, the attitude was "just get on with it" which is the worst thing, as for many people like me, you are simply not able to.