Workhorse of coalfield returns to Blaenavon station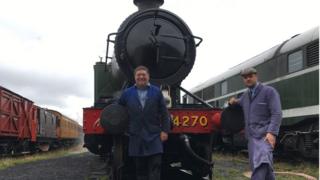 A locomotive saved from the scrap yard has returned to one of its old stations for the first time since the 1960s.
The 4,200 class engine - number 4,270 - was based at Newport and considered one of the workhorses of the coalfields - pulling coal, steel and iron.
However, it ended up at a Barry scrapyard and was set to be dismantled.
But a Swansea museum bought and preserved it and it has returned to Blaenavon, Torfaen, for the annual steam gala this weekend.
The locomotive would have been an integral part of the south Wales economy before it was replaced by more efficient diesel engines.
John Evans, who has been preserving steam engines for 46 years, spotted and helped save it. It is now owned privately in England.
"They were used to take coal to the power stations, so you could say they kept the lights burning," he said.
"There were over 150 of them so you used to see them everywhere on the mainline and of course in the valleys.
"I remember them in the early 1960s when I was a small boy and felt like I'd missed out.
"So to be back - in my 60s - getting a chance to work on this one during the first time it's been back since that time is fantastic."
Blaenavon Heritage line manager Alex Hinshelwood says it will be the star attraction at the steam gala.
"This one's quite special because it spent all its working life in south Wales and now it's back for one weekend only and of course for the first time since it stopped working," he said.
Mr Hinshelwood said the 4270 will be making trips on the heritage line until Sunday before returning to its private owner.