Brothers hope to reopen Turkish restaurant after visa delay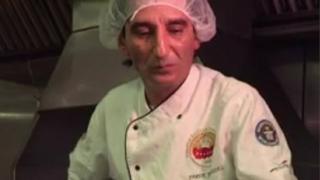 Two Turkish brothers who were forced to close their award-winning Cardiff restaurant after problems renewing a visa have vowed to reopen after the issue was resolved.
Chef Faruk Yavuzel ran Oz Urfa, in City Road, with his brother Feridun, until they had to sell up last November.
While Feridun is a British citizen, his brother is not and the Home Office refused to extend his business visa.
However, Faruk has now been told he can stay in the UK for three years.
Both brothers had each invested £17,000 to set up the restaurant, which was rated highly on Trip Advisor and won the Taste of Wales Best World Cuisine Restaurant 2016 award.
Faruk, 45, had come to Wales legitimately four years ago on a one-year Turkish business person's visa, which is valid under the decades-old Ankara Agreement for those who invest in and develop a business.
However, when it was not renewed, the brothers embarked on two years of appeals, during which they were told the restaurant would need to close because Faruk would be working illegally.
Feridun, 43, also said they needed to sell their business to pay for solicitors.
"It was a very successful business," said Feridun, who lives with his wife, daughter and brother in Newport.
"We had won an award and had loyal customers."
'Lost everything'
He said the court proceedings went on for two years but six months ago the Home Office told them to withdraw the case and to reapply for the visa.
They have now been told that Faruk, whose story featured in the BBC Wales series Strangers in a Strange Land, has been given a business person's visa for three years.
It is now their hope to reopen their restaurant if they can get a bank loan.
"We have lost everything now," added Feridun.
"We lost the shop and spent all the money on the court. But thankfully he got the visa so we will do our best to reopen in new premises.
"It's been a very difficult time. I've had to work part time in my friend's shop and my brother has been unable to work.
"His passport was also taken off him so he has been unable to return to Turkey to see his three children, who are aged seven, nine and 11.
"I think the first thing he will do when he gets his passport back is to visit them and then we will search for new premises."