Welsh councillors 'could attend meetings on Skype'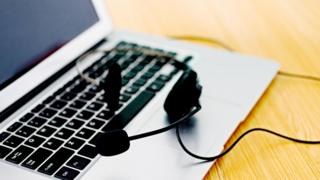 Video conferencing or Skype could be used by councillors to attend meetings remotely in an effort to make running for council more appealing.
The Welsh Government intends to make it a requirement for councils to offer "remote attendance" to meetings in its proposed draft local government bill.
Councils have been told by ministers to make local government accessible to younger people and those with families.
Monmouthshire council will discuss using video technology on Monday.
A report to its democratic services committee will be told that while remote attendance at meetings for members is encouraged by the Welsh Government, the "functionality to facilitate this is not yet available as a cost effective solution that can be embedded into the existing arrangements within the chamber".
John Pearson, Monmouthshire's local democracy manager, said in the report: "Whilst there are solutions such as Skype which could be used, they don't address issues such as chairing the meeting and maintaining order, voting, multiple instances of remote attendees and the requirement to provide translation to those remote attendees who need it."
Wales' 22 councils have surveyed members for their views about the times of council meetings as part of the Welsh Government's "diversity policy" for councillors whose employment or caring responsibilities may not fit in with traditional council arrangements.
Next, the government wants councils to introduce a 21st Century solution for councillors "to operate remote attendance facilities, enabling people to attend a meeting from another place".
The local government bill has been controversial in councils across Wales as it initially proposed cutting the 22 councils to eight or nine authorities when it was first drafted in 2015 - before that plan was scrapped.
There was also a consultation on reforming council elections that could see 16-year-olds given the vote.