Caerleon campus: New homes plan for old university site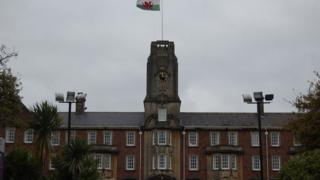 Proposals to build more than 300 homes on the University of South Wales campus in Caerleon have been submitted.
Planners at Newport council will discuss the 32-acre redevelopment, which includes 2,400m² of light industry units and community buildings.
The plans are for 311 dwellings - 263 houses and 48 apartments in existing buildings, including 42 in the Grade II-listed main Edwardian building.
The university left the site in 2016 after moving to Newport city centre.
The site next to St Cadoc's Hospital in Caerleon had been a college campus since 1914 but is expected to be turned into a large estate.
Outline planning has been requested for the houses by property planning consultants Alder King, who also want to build "non-residential units" for facilities such as health centres, day centres or nurseries.
Full permission has been submitted for the conversion of the old main Caerleon campus building, built in 1912, and the other existing outlying buildings.
Plans have also been put in for changing rooms as the existing rugby pitch will be retained.
Newport has seen more new homes being built than any other Welsh authority in the last two years and planning was passed last week for a new development of 530 houses in the Pill area of the city.