Porthcawl Elvis festival will go on despite licensing issues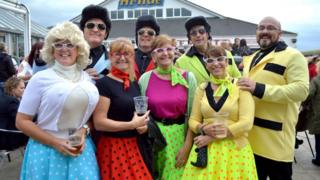 The world's largest Elvis festival will still take place in Porthcawl despite concerns they might not be able to sell anything.
About 35,000 impersonators and fans of 'The King' are expected to attend the event starting on 22 September.
Plans to sell food and merchandise are under threat after Bridgend council's highways officials objected.
Bridgend council said having stalls was a "late request" and it needed to be satisfied it could be done safely.
Organiser Peter Phillips said awaiting the decision so close to the event was "frustrating".
The application for a street trading licence will be considered by councillors at a meeting on 14 September.
A report said the council's highways department raised concerns due to the position of the stage and stalls.
The festival has been a fixture in the seaside town since 2004, and Mr Phillips said there was no question of it being cancelled, despite the licensing issue.
'Kebab shops rammed'
He said the idea this year had been to sell food, merchandise and have charity stalls within the road closure areas, alongside events in pubs, but that highways officials had said no.
"One of the problems of having 35,000 people coming into Porthcawl is the few kebab shops end up rammed," he said.
"It is a bit bemusing, the highways department have put in an objection, but haven't said what it is, apart from that we cannot trade on the highways.
"They have street trading at the Christmas markets. It is not a big deal, it will take place at different venues. It was going to be an addition, we were trying to put it all in one place.
"It was only two years ago that the council finally found a way of closing the road after pressure from the local police."
He added: "It will be a week before the event and they are still talking about it, they should have resolved this weeks ago."
The committee report does not give a recommendation to councillors.
Bridgend council said: "While the Elvis Festival is all set to go ahead as planned, the council has received a late request from organisers for setting up a series of additional stalls selling items directly to visitors.
"We have to be satisfied that this can be done safely so that people can enjoy the festival without risk of injury or worse, that emergency access can be maintained, deliveries to local shops can still get through and more."