New Cwmbran street to be named after late soldier James Prosser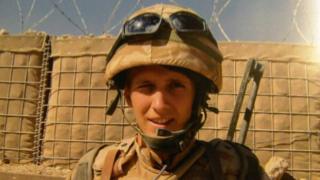 A street on a new housing development in Torfaen will be named in honour of a soldier from the area who died in Afghanistan.
The road on the site of the former Llantarnam Comprehensive School will be known as James Prosser Way.
The old school site, which will house 226 new homes, is where Pte Prosser once studied before joining the Army in 2008. He was killed a year later.
His mother, Sarah Adams, said she was happy he would be remembered there.
"It's mixed emotions obviously, but I'm really pleased for James and it's extra special because it was the site he went to school," she said.
Pte Prosser left Llantarnam Comprehensive in July 2008 to join the Army.
He later became a member of 2nd Battalion The Royal Welsh in February 2009, where he trained as a Warrior infantry fighting vehicle driver before being deployed to Afghanistan.
He was killed on 27 September 2009 as a result of an explosion while driving his Warrior vehicle in the Musa Qaleh district of Helmand province.
Councillor Anthony Hunt, leader of Torfaen council, said he had been a governor at the school when a hall was named after Pte Prosser, which "everyone was really pleased with".
"It was a sensitive time obviously when the school closed and the hall went, so it's really good to have something to put back there to remember James," he added.
"Some of his friends have also been in touch to say how pleased they are about the news."