Train hits tree near Llanbradach with four people hurt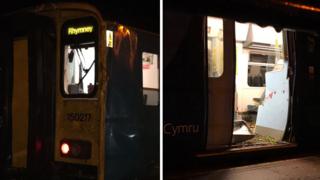 Four people were injured after a train hit a tree which had fallen on the line in Caerphilly county.
The incident happened on the line between Llanbradach and Ystrad Mynach at about 22:00 BST on Sunday.
Crews from five fire stations attended the scene and of the 17 people on board, four were treated, with two taken to hospital.
The train had not derailed and was moved by 01:00 Monday, with services back to normal later in the morning.
Robert Dorian Barbero, whose company sent two buses to Ystrad Mynach to pick up the train's passengers, said he spoke to the driver at the station.
"He said he came around the bend towards Llanbradach and there was a landslide," said Mr Barbero, a director of Top Class Travel Taxis, of Blackwood.
"He hit the brakes on the train but before he could do anything he hit it. He hit a tree and it caused major damage."
Mr Barbero said as well as damage to the front of the train, it looked as if a door was ripped off and ended up in the carriage, and two carriage windows were broken.
His company took about 20 passengers home after being called out at about 01:20, and another company's taxis picked up more people.
Arriva Trains Wales director Gareth Thomas said: "We can confirm that one of our services struck a tree on the line north of Llanbradach on Sunday night and that four people were injured.
"The incident left our driver very shaken up and the train badly damaged, however the train remained on the tracks.
"The safety of our customers and staff is always our first concern, and we worked closely with our partners in Network Rail throughout the incident to ensure the train was safe and to clear the track so the train could proceed to Ystrad Mynach where taxis had been arranged to meet passengers and take them home.
"Together with Network Rail we will be investigating the causes of this incident and we would like to thank all those onboard for their patience during what was clearly a very distressing incident."
A spokesman for the Welsh Ambulance Service said one patient was taken to the Royal Gwent Hospital in Newport and another to Prince Charles Hospital in Merthyr Tydfil. Their injuries were not thought to be life-threatening, he added.
British Transport Police said they were called to the site at 21:50. A spokesman said engineers from Network Rail remained at the scene making repairs to the network.