Welsh cinemas start dementia-friendly screenings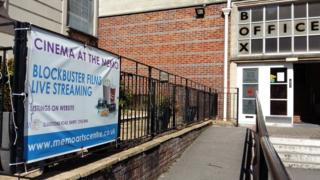 A series of classic films are being used in the fight against dementia as part of World Alzheimer's month.
Movies like Some Like it Hot, Calamity Jane and Viva Las Vegas are being shown in the hope to trigger memories in those suffering from the disease.
Independent cinemas and arts centres across Wales are taking part in the event, starting on Friday.
Ivor James' wife Margaret has vascular dementia and he said: "The old classics help trigger her memory."
Cinemas are set up slightly differently for dementia-friendly screenings. The lights are left on, albeit dimmed, and the volume is slightly lowered.
The Memo Arts Centre in Barry, Chapter Arts Centre in Cardiff, the Newbridge Memo, Theatr Colwyn in Colwyn Bay, Theatr Clwyd in Mold, Cell B in Blaenau Ffestiniog and Pontio Bangor are all showing dementia-friendly films this month.
"Margaret also likes action films," added Mr James, 78, of Cardiff.
"She struggles to recall seeing the film afterwards but she enjoys the experience and it is lovely to see her show some spark and an inkling of understanding."
Alzheimer's disease affects about 43,000 people in Wales and Sue Phelps, the director of Alzheimer's Society Cymru, said dementia-friendly screenings are valuable.
"Creating a social space in cinemas where people living with dementia can enjoy a simple leisure activity with their friends, family and carers is so important," she said,
"It helps to create a more inclusive society for all.
"Cinemas can make a huge difference to people living with dementia by allowing audiences to move around, chat and sing along if they want to, with an opportunity to socialise afterwards, it creates a much more relaxed atmosphere."
Hana Lewis, strategic manager of Film Hub Wales, has been helping film-lovers with dementia in Wales since 2013.
"Film not only has the power to bring communities together but it is a powerful tool to improve mental wellbeing and confidence," she said.