Time limit explored for Cardiff council meeting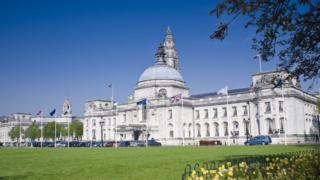 Time limits for Cardiff council meetings have been explored after some councillors said hours were too long.
Currently there are nine full council meetings a year - which involve all 75 members - which start at 16:30 BST and can last well into the evening.
A committee looked at introducing a cut-off of 21:00 after 83% of councillors said the hours were too long.
No decision on finishing times was made at the meeting on Thursday night.
A Cardiff council spokesman confirmed its constitution committee considered recommended changes to rules to bring in an end time limit.
However, the committee decided it was more important to look at making the meetings "more purposeful than to finish at a particular time", and decided to do a review of the constitution and the meeting processes.
He added: "No decision on a finish time was made."
The Welsh Local Government Association, which represents Wales' 22 authorities, said councils wanted to ensure meetings were "effective and as accessible as possible for the majority of councillors" as many have families.
If the changes by Cardiff council are approved, any business not discussed by the cut-off would be put straight to a vote, without a debate.
The move, however, would not apply to the budget meeting in February.
It comes after a survey, carried out last autumn, showed 83% of councillors thought full council meetings - held monthly except for April, August and December - were too long.
Meanwhile, 43% of councillors thought there were too many full council meetings.
The committee also considered cutting the number of full council meetings to eight - with the council scrapping the July meeting, which falls in the summer break.
Any changes would need to be put before the council for a vote before they can be brought in.
'Lengthy meetings'
If eventually approved, Cardiff would not be the first council to have brought in limits for meeting times.
In May 2015, Wrexham made changes to its meetings meaning they could start no later than 16:00, while in Caerphilly the authority has an arrangement that its full council meeting has to end by 21:00.
A spokesman for Cardiff council said: "A survey carried out of elected members of the last council did recommend that a finish time for full council meetings be considered.
"This was because the meeting starts at 16:30 and it was felt usually 4.5 hours would be sufficient to carry out the business, and also that lengthy evening meetings were preventing candidates coming forward for election.
"This time limit could of course be extended if necessary."
The WLGA said all councils surveyed their members on the length of meetings as some councillors spent 21 hours a week on council business.
"Councils deliver major services and make significant decisions affecting all of Wales' communities," said a WLGA spokesman.
"Councils' calendars and meeting agendas reflect this and are therefore often lengthy and can place significant demands on councillors' time.
"Councils provide support to councillors and often adopt a varied schedule of meetings, with some meetings held during the day and others during the evening to meet the needs of members."