Tom Jones and Max Boyce albums help lonely reminisce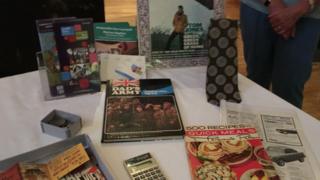 Old Tom Jones and Max Boyce albums are set to feature in a project aimed at connecting with socially-isolated older people in care homes.
Reminiscence sessions with memory boxes are currently run by volunteers at the Cardiff Story Museum.
They feature artefacts from the 1940s to the 1970s.
Following a successful pilot at Rhydypennau Library, the initiative is set to be rolled out to care homes this month.
The Cardiff Story Museum tells the city's history from being a small market town in the 1300s, its growth into one of the world's largest ports in the 1900s, to the present day.
The memory boxes are aimed to trigger discussions on periods such as World War Two and the 1960s.
A 1940s box contains a ration book and war medal while one from the 1950s includes a programme from the British Empire and Commonwealth Games, held in Cardiff in 1958.
Jordan Taylor-Bosanko, from the museum, said: "One of the most important things is the memories attached to simple items and how they help people chat and reminisce."
Anne Davies, one of eight volunteers involved, said albums by The Beatles, Tom Jones and Shirley Bassey can help people to remember seeing them decades ago in south Wales.
"People always remember music. There was one man who had dementia and didn't know what day of the week it was or if he had had lunch," she said.
"But from photos, he could open up. It is important to give people a link with the past."
Those involved in the project hope to work alongside a care provider to role the scheme out across the city.