Llanharry giant vegetable grower's 'armchair-sized cabbage'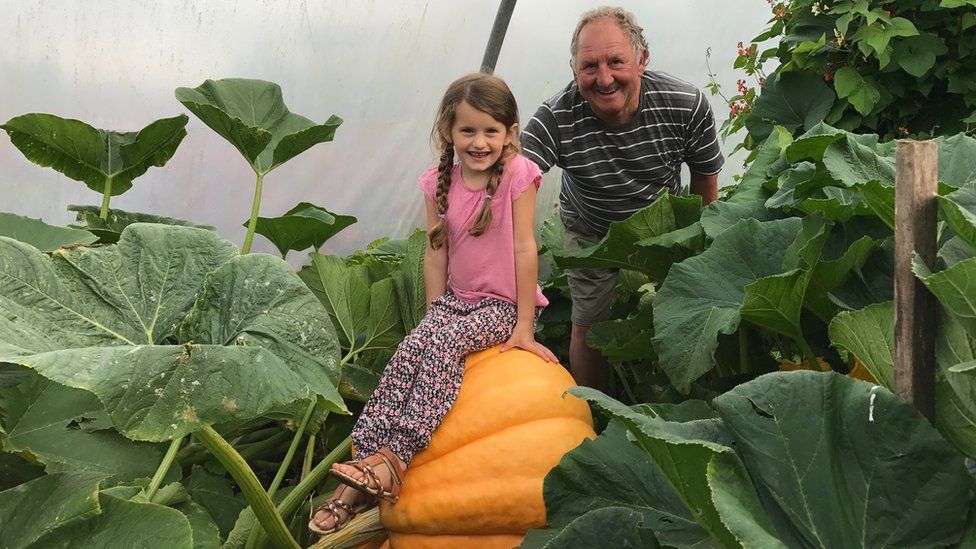 A giant vegetable grower is preparing to take an "armchair-sized cabbage" to an agricultural show.
Phillip Vowles, 68, of Llanharry, Rhondda Cynon Taff, is hoping some of his vegetables will be award winners at The Vale of Glamorgan show.
His efforts include a 110lb (50kg) marrow and a 250lb (113kg) pumpkin which will be loaded on to a trailer on Tuesday in order to get them there.
"I get so much interest from people, it's unbelievable," he said.
Mr Vowles, who has grown giant vegetables for 40 years, uses molasses feed and recycles his compost waste into liquid to feed the monster greens and ensure a bumper crop.
He hopes to bag some rosettes when the show begins at Fonmon Castle on Wednesday.
"One of my cabbages is the size of an armchair - about 50 kilos - and I've grown sunflowers about 12 to 14 feet tall," he said.
The former farm worker and self-employed gardener describes himself as an amateur with no formal training.
He was inspired to start after going to a show 40 years ago which had a giant marrow competition and he "thought it was brilliant" so never looked back.
"It's just a hobby, I enjoy doing it," he said.
He grows mainly for his family and his grandchildren Sophia, four, and Charlie, eight, help out on the allotment behind his home.
His top tips are the right seed, "not your run-of-the-mill type as it will not grow big enough", along with plenty of water and some patience.
His giant pumpkin took about 12 weeks to hit its current size and he only uses non-artificial fertilizer.
"I'm an amateur gardener - if I can do it, anyone can do it," he said.