Cartoon monkey Moe could help police interview children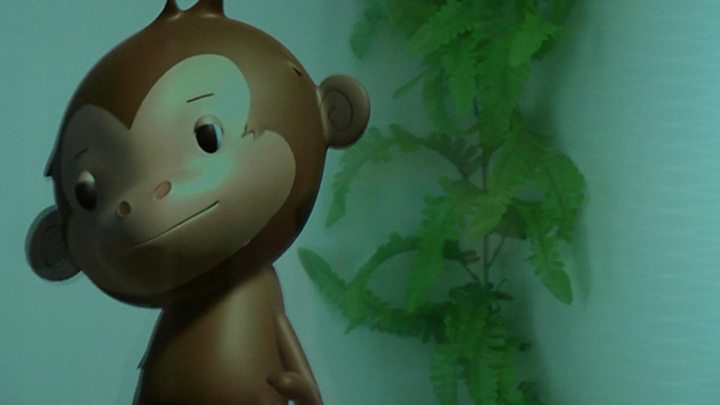 A computer-generated monkey developed for schools could be used to help child witnesses give statements to police.
Moe uses motion capture technology as well as lip sync and voice-altering software to mimic the person controlling it.
It appears on a screen, controlled from another room, and talks and moves in real time.
Developers said it could help with interviews as children might find it easier to open up to Moe than an adult.
The system uses motion capture cameras to pick up the movements of the person controlling Moe.
They wear a headset, allowing them to speak as Moe, and can control its emotions, making Moe smile or frown, using a remote control.
They can see the children they are talking to via a computer screen and can hear what they are saying, allowing them to have a conversation.
Evoke Education, based in Abertillery, Blaenau Gwent, developed Moe as a learning tool to be used in schools to help raise standards after looking at psychological tests which showed this kind of technology could help children retain knowledge.
Early trials show pupils responded well to the cartoon-like avatar, with many excited to listen to what it had to say.
Those who took part were able to retain information Moe gave them when tested later and were eager to carry out tasks it set for them.
Evoke Education owner, David Hinton, said: "It's totally interactive. The children see it as 'woah, I'm talking to a monkey', whereas actually they're talking to the teacher, the social worker, the policeman or anyone else who needs to engage with them.
"We've trialled it in schools - it's about knowledge retention - the children really suck in the knowledge that Moe gives them.
"But he's also very approachable, so vulnerable children, who might be interviewed by social workers, they give out a lot more and they're more relaxed in front of Moe so he could be used for child protection issues, education, health messages - the NHS are interested in looking at it for giving out health messages.
"We've spoken to psychologists about it and they've said, yes they would really engage and open up and say things they wouldn't say to an adult.
"And it can be recorded so it could be used as evidence if that was the case."
Mr Hinton said initial feedback had been very positive.
"The schools we've shown it at, they're just amazed, from all ages up to about 11, about how engaged they've been, how excited," he said.
Moe is primarily aimed at children aged three to 11 but Mr Hinton said the system could be developed for older children using different avatars.
Evoke Education has been developing the technology for 18 months and with help from the University of South Wales' Centre of Excellence in Mobile and Emerging Technologies (CEMET) to fine tune it, it could be on the market in six months.