National Museum Wales acquires 'rare' 18th Century portrait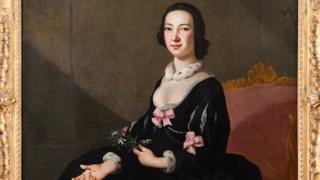 A "rare" 18th Century painting has been acquired by the National Museum Wales.
Portrait of a Lady (Miss Mary Jenkins?) was painted by Richard Wilson in about 1750.
The oil on canvas is now on display in the Art galleries of National Museum Cardiff.
Andrew Renton, keeper of art at the museum, said the portrait "strengthens the female presence in our eighteenth-century displays" and will enable it to carry out further research.
The museum already holds the largest collection of works by Richard Wilson in the UK, and said this latest painting would be "a significant addition to the collection".
The move has been supported by the Art Fund.