Velothon Wales: Roads return to normal on cycle race route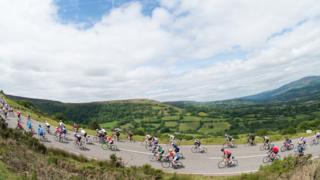 Roads closures have been lifted across parts of south east Wales after cyclists took part in the velothon.
About 15,000 joined the race which starts and ends in Cardiff but takes in Newport, Monmouthshire, Torfaen and Caerphilly.
The 87 mile (140km) race began at 07:00 BST. The professionals set off at 12:45.
Some roads were shut for a number of hours, others had rolling closures.
Ian Bibby was the first professional rider to cross the finishing line. Anthony Roberts from Guildford won the amateur race.
It is the third time the velothon has been held in Wales, with last year proving a smoother ride than in 2015 which faced criticism over road closures and saw tacks found on the route.