£57m Cardiff Bay road linking to east of the city opens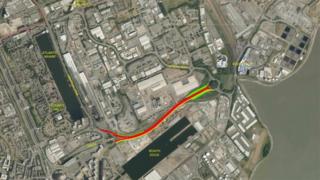 A £57m road linking Cardiff Bay and the east of the city will officially open on Thursday.
It will connect the A4232 at the Queensgate roundabout with the Ocean Way roundabout in Tremorfa.
The Eastern Bay Link Road was part of a deal in 2014 between Labour and the Liberal Democrats to pass the Welsh Government's budget.
Work on it started in March 2016 and First Minister Carwyn Jones will officially open it on Thursday morning.
It is expected to open after rush hour at about 19:00 BST, a Welsh Government spokesman said.
When plans were unveiled, then transport minister Edwina Hart said: "Commuters travelling between the east of Cardiff and the bay will also benefit from reduced journey times and a shorter route, while residents in the area of Tyndall Street should see reduced traffic and disruption in their neighbourhood."