Coroner unclear over Miller Coyle cliff death near Penarth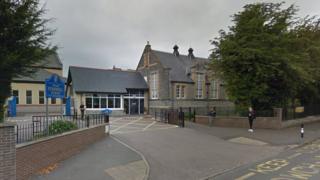 A coroner has said he is unclear whether a 15-year-old boy who died after a cliff fall had intended to take his own life.
Miller Coyle was found at Lavernock Point, near Penarth, Vale of Glamorgan, on 26 February and died from his injuries six days later.
The inquest heard he had sent his friend text messages threatening to jump, but path debris found at the foot of the 200ft cliff suggested the ground had given way under his feet.
A narrative conclusion was recorded.
Miller was described as a "popular, bright boy" who had done well at Stanwell School in Penarth and had packed his bag for school the next day.
He was found in the dark by his father PC Derrick Coyle, who had been searching for him after he failed to show up to a get together with his friends.
South Wales coroner Philip Spinney said he was "not satisfied" that Miller had intended to take his own life.
"He died in circumstances where his intention was unclear," he said.